Don't Expect the Lira to Have a Quiet October
(Bloomberg) -- Turkey's balance-of-payments position is on the mend. That is helping the lira but may not be enough to shield the currency from a turbulent October.
The lira led emerging-market gains on Thursday to rally for a fifth day, after the country posted its biggest monthly current-account surplus on record in August and the first in almost three years. That's the strongest sign yet that Turkey's overheated economy is slowing, after import-driven growth left the currency at the mercy of an exodus of capital.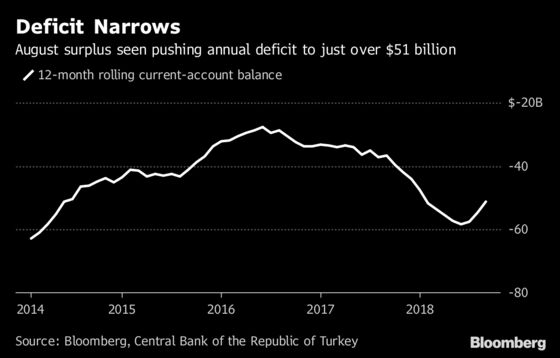 Still, with Turkey's fraught relations with the U.S. hanging in the balance before a court hearing for jailed American pastor Andrew Brunson on Friday, foreign investors aren't piling back into the nation's assets. Inflation is running at a 15-year high, leading some to look for the central bank to raise interest rates again at its next meeting on Oct. 25.
Thursday's current-account data should be "supportive for the lira short-term," said Oliver Weeks, an economist at Emso Asset Management in London, which manages around $5.5 billion of assets and is carrying a "small" positive position in the Turkish currency. There is "too much uncertainty" regarding Brunson, the central bank, and risks surrounding lenders' foreign-currency debt rollovers to take a large position, he said.
The lira was up 1.6 percent at 5.9804 per dollar by 12.05 p.m. in Istanbul, but the currency has still lost nearly 40 percent of its value this year. Foreign investors sold a net $79 million of Turkish bonds and stocks in the last week of September, taking total outflows this year to more than $2.2 billion, the most since 2015.
Data showed Turkey's current-account balance swung to a $2.59 billion surplus in August, a slightly wider reading than expected in a Bloomberg survey. The adjustment comes amid a slowdown in economic activity triggered by the currency rout.
Lending is falling, the pile of bad debt on bank balance sheets is growing and consumer confidence is at the lowest in a decade. The risk of another shock to sentiment could lead to a sharper contraction, exposing the lira.
"Rebalancing is a positive investment theme, only if it is engineered by policy makers employing prudent policies," said Inan Demir, an economist at Nomura International Plc. in London. "It simply is not possible to form a positive investment narrative on a rebalancing that is the result of a hard landing."