Lira Extends Slide as Investors See Policy Concerns Unaddressed
(Bloomberg) -- The lira slid for a second day in the absence of signals from policy makers of reforms to address Turkey's economic woes.
The currency dropped in choppy trading after relative calm during last week's public holidays. The return of local traders has added to a selloff driven by a worrying economic outlook, according to Cristian Maggio, the head of emerging-markets strategy at TD Securities in London.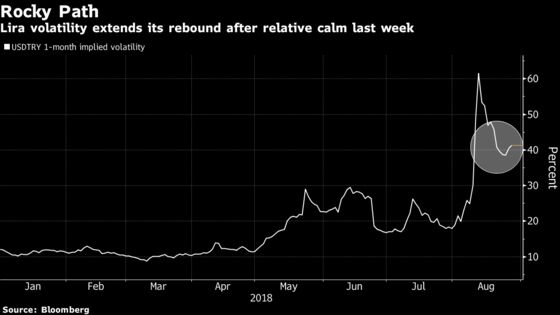 The surge in the dollar against the lira on Monday amid increased local market activity shows "lots of the upside pressure on the currency pair is domestic," said Maggio. "I would argue that foreigners are negative on Turkey but look for tactical opportunities to take a position, be it long or short. Locals, however, seem to have a much stronger and long-term negative bias on their own currency."
Investors say the concerns that sent the lira to successive record lows earlier this month remain in place, including double-digit inflation, a deepening current-account deficit and the reluctance of policy makers to raise interest rates. U.S. sanctions announced earlier in August over the detention of an American pastor have further hit sentiment and exacerbated worries over Turkey's vulnerabilities.
The lira was 1.8 percent down at 6.2295 per dollar by 11.15 a.m. in Istanbul, taking losses so far this week to more than 3 percent. Short-term volatility in the currency is by far the highest among emerging markets, having climbed above 40 percent this week.
President Recep Tayyip Erdogan has called the market turmoil an "economic war" waged by "foreign powers." French Finance Minister Bruno Le Maire urged Turkey to pursue economic reforms at a joint news conference following a meeting with Turkish counterpart Berat Albayrak in Paris on Monday.
"All the troubles are now coming to the fore because the external environment has become a lot more challenging than it used to be," Maggio said. "From an economic point of view, Turkey will have to enter a long phase of low growth, with very high chances of stagnation or even recession."
It's "too early" to buy the dips in Turkey as turmoil is driven by unresolved economic mismanagement, said Gabriela Santos, global markets strategist at JPMorgan Asset Management, as she voiced optimism for emerging markets following the U.S. trade deal with Mexico.