Lira Chaos Fuels Predictions for More Financial Stress in Turkey
(Bloomberg) -- A credit crunch. More expensive exports. Debt restructurings.
Those are some of the economic shocks that analysts say potentially face Turkey if the lira keeps spiraling lower. The currency plunged to historic lows on Thursday after the central bank cut interest rates, despite inflation at 20%. 
While Turkey has endured a rolling crisis for years, there's concern that the speed of the recent depreciation could have far-reaching effects. 
"This is too much unorthodoxy in action," said Ogeday Topcular, a money manager at RAM Capital. "It may start biting institutions more now and we can see an increase in debt restructurings, which may take us to uncharted waters."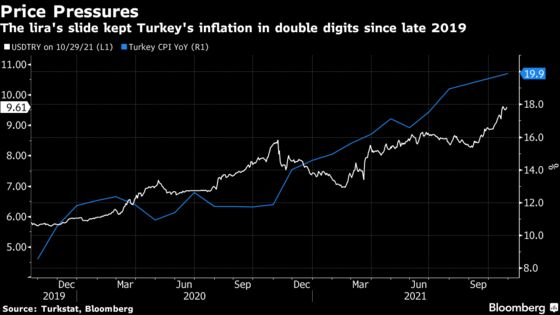 The lira fell as much as 6% to 11.3118 against the dollar, extending the biggest depreciation in emerging markets this year. 
If the lira keeps falling, "credit conditions would almost certainly tighten," said Jason Tuvey, senior emerging market economist at Capital Economics in London. 
Others said the central bank's promise to consider ending the easing cycle from December could provide stability to markets, and prevent the currency from spiraling totally out of control.  
"For the time being, credit investors seem pretty sanguine about the monetary stance," said Nick Stadtmiller, director of emerging markets at Medley Global Advisors in New York. "But the risk of a serious repricing in Turkish credit over the next six months or so is definitely higher." 
Executives in Turkey are already warning about the effects. Sekib Avdagic, head of the Istanbul Chamber of Commerce, said on Twitter that companies are having a hard time finding credit. Exchange rates, inflation and interest rates need to be predictable, he added. 
Tusiad Chairman Simone Kaslowski, who heads up a network of business leaders, echoed the concern, saying exporters are being harmed by the currency volatility.
Analysts also voiced skepticism that Turkey's central bank will bring inflation under control anytime soon. It won't be enough for the central bank to stop cutting rates, said Henrik Gullberg, a macro strategist at Coex Partners in London. 
"The situation will deteriorate due to lira depreciation, which will feed into higher inflation until there's an end to this vicious circle," he said.