Expect More Volatility in the Turkish Lira
(Bloomberg) -- The breather is over for the world's most volatile currency.
After months of unremitting turmoil, trading in Turkey's lira was relatively calm this week as local markets remained shut for a holiday. With trading set to resume Monday, investors should brace for more turbulence unless the nation's policy makers adopt a more market-friendly approach, strategists say.
The lira plunged 37 percent this year, left vulnerable by runaway inflation, a deepening current-account deficit and policy makers' reluctance to raise interest rates. Adding to the troubles were U.S. sanctions on Ankara over the imprisonment of an American priest. If the trend seen after a similar holiday during Turkey's 2001 currency crisis is anything to go by, count on volatility persisting.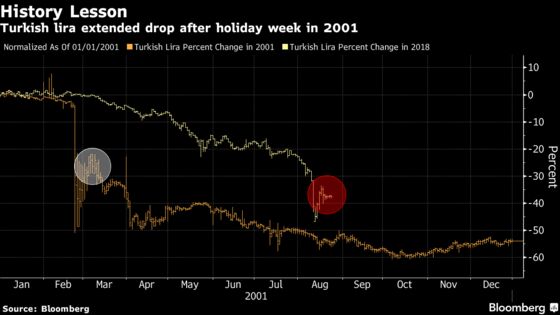 "Relief will be short-lived and more action is needed," said Guillaume Tresca, a strategist at Credit Agricole SA in Paris, who recommends that investors avoid the lira. "Turkish officials have to create a credibility shock."
Turkey, while it's raised rates by 500 basis points since April, needs to boost them further by more than 600 basis points to stabilize markets, according to Societe Generale SA. President Recep Tayyip Erdogan's administration says the turmoil is part of an economic attack by Washington and has resisted pressure to raise borrowing costs, a step that would likely curb economic growth.
This time, the exit plan appears murkier than in 2001.
Back then, the lira slumped after a peg to the dollar failed, and amid domestic political risks fueled by a spat between Prime Minister Bulent Ecevit and President Ahmet Necdet Sezer. In reaction, officials including newly appointed economy chief Kemal Dervis -- hired from the World Bank -- used a week of holidays to overhaul plans and secure additional financing. That didn't stop the currency from almost doubling losses in the remainder of the year.
Now, power is concentrated in the hands of Erdogan. And Turkey is embroiled in an exchange of sanctions, grievances and recriminations with the U.S., in contrast to 2001, when one of the first trips of the new economy minister was to Washington.
Option markets show investors bracing for more lira trouble. The cost of short-term insurance against its swings remains the highest for any currency in the world, even after retreating from a recent peak. One-week dollar-lira implied volatility was about 44 percent Friday, down from as high as 86 percent on Aug. 13. The so-called volatility curve is downward sloping up to the one-year tenor, which is at about 28 percent.
Key to lira moves in the coming months will be a string of economic reports including those on trade, the current-account and inflation. The central bank is scheduled to review rates on Sept. 13. Further details on Finance Minister Berat Albayrak's plans to overhaul the economy will also be closely scrutinized. On the flip side, growing skepticism over the scope for further dollar gains could help the lira.
"Ideally, a more substantial external financing support that comes on the condition of undertaking correct macro policies -- such as an International Monetary Fund program -- may be required to turn the fortunes of the currency," said Kiran Kowshik, a strategist at UniCredit SpA. "However, this appears to be a long way off. Expect the lira to remain under pressure in wide choppy ranges."