Liquidity-Thirsty Funds Brace for Downturn Via CDS Wagers
(Bloomberg) -- Credit investors worried there won't be enough liquidity in a downturn are taking bigger steps to avoid getting stuck with hard-to-trade corporate bonds.
They're snapping up index derivatives -- synthetic products that are easier to buy and sell than cash bonds -- in increasing numbers as a way to stay light-footed should the big one hit.
Volume on Markit's CDX North American Investment Grade Index, which tracks default swaps on 125 high-grade corporate bonds, reached a new milestone in the first half of 2018 of $1.56 trillion. That eclipsed every previous period in the past five years of data available.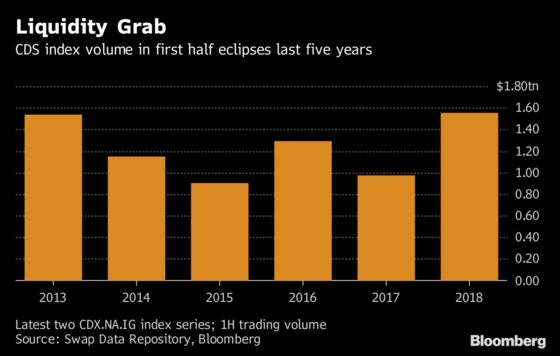 "Investors are putting more allocations into more-liquid portfolio products so they can be more nimble in a downturn," said Anindya Basu, head of U.S. credit derivatives strategy at Citigroup Inc. "When markets were rallying, people thought about liquidity, but it may not necessarily have been on the top of their agenda."
Heavy turnover in such derivatives typically coincides with periods of turmoil as investors rush to hedge credit risk. February's meltdown is a case in point. Traders snapped up $12.7 billion of on-the-run protection in CDX.IG between Feb. 2 and Feb. 9 -- a figure that dwarfed the $2 billion of cash outflows from global investment-grade bond funds a week later, according to Barclays Plc research.
When volatility strikes, synthetics offer safer passage out of corporate credit, says Geraud Charpin, an investor at BlueBay Asset Management, which oversees $60 billion. During Italy's political crisis in May, for example, funds that needed to liquidate cash bonds fast to meet redemptions ended up accepting steep penalties to exit, he said.
"The exchange of risk between investors is not a smooth process these days when market conditions become more volatile," said Charpin.
The migration to indexes at the expense of cash bonds and default swaps on individual credits has surged post-crisis as investors sought ways to weatherproof funds from liquidity risk. Now, volumes are rising as traders place bullish positions mindful of a looming reversal in the credit cycle.
"It's been a reluctantly long environment for a while -- that is why these CDS overlays have been increasing," Basu said.
One investor making the shift is Gilles Pradere at RAM Active Investments SA. Since the second quarter, he's been a bigger user of credit-default indexes to avoid getting saddled with cash bonds late in the business cycle.
"If you want to get out of a position and liquidity is poor, you lose energy, time and performance on the bid-ask spread," said Pradere, whose firm oversees 4.8 billion Swiss francs ($4.8 billion). "With a CDS index you can go long or short credit very quickly in large size."
Liquidity becomes all-important when funds have to cash in their assets to meet redemptions. In 2008, wide bid-offer spreads on corporate bonds pointed to how difficult trading had become for funds looking to offload positions.
Today, heightened concerns about an escalating trade war and the prospect of tighter monetary policy are overshadowing the otherwise healthy economic backdrop for high-grade corporate credit.
The Bloomberg Barclays index of U.S. investment-grade credit has declined 2.4 percent this year, on course for its steepest drop since 2008.
"When markets gets really stressed, cash tends to underperform," Basu said. "Investors are starting to get more bearish than a year ago; they're worried about a variety of risks such as rising rates and trade wars."