Lions Gate Tops Views After Streaming Helps Offset Movie Decline
(Bloomberg) -- Lions Gate Entertainment Corp. posted stronger results than Wall Street predicted last quarter after sign-ups for the Starz streaming service and the licensing of library content helped offset continued weakness at the box office.
Though revenue declined 7.2% to $876.4 million in the fiscal fourth quarter, that was well above the $800.7 million analysts estimated. Excluding some items, operating income came in at $77.4 million, roughly double the amount projected.
See more details.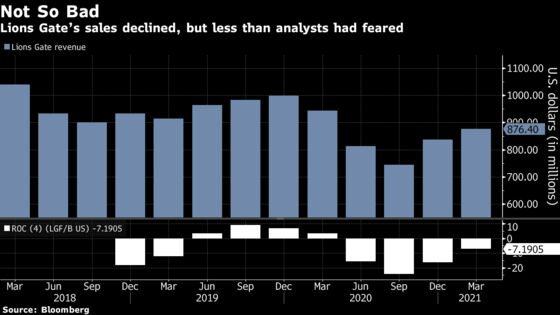 Lions Gate's Starz service now has 16.7 million streaming subscribers. Though that's just a fraction of what streaming giants like Netflix Inc. boast, the number was up 69% from a year earlier. The Santa Monica, California-based company had previously forecast 13 million to 15 million.
That's helped make up for a dismal stretch at the box office. Domestic theaters were only just restarting during the company's fourth fiscal quarter, and productions were slowly going back to normal -- with Covid-19 precautions in place.
The company also is now the subject of acquisition speculation after the announced $8.45 billion purchase of rival studio Metro-Goldwyn-Mayer by Amazon.com Inc. on Wednesday. Management will likely face questions about how it will compete with larger streaming rivals on a conference call later Thursday.
Lions Gate is still grappling with a large debt load and a transition to a la carte distribution from traditional carriage for its Starz cable channel, according to an analysis by Geetha Ranganathan at Bloomberg Intelligence. Still, shares have jumped in recent weeks after two major media deals were announced, with the studio possibly able to fetch $9 billion in a sale.
Lions Gate shares were unchanged in extended trading after the results were announced. They have advanced 64% this year, mostly on deal speculation.
Read the statement.
See Lions Gate estimates.