Lions Gate to Create 'Knives Out' Franchise After Strong Showing
(Bloomberg) -- There's more story left to tell in the saga of detective Benoit Blanc, the star of Lions Gate Entertainment Corp.'s whodunit hit "Knives Out."
The studio plans to center a new franchise around Blanc's travails, after the movie directed by Rian Johnson smashed box-office expectations over the holiday season. The film has now generated nearly $300 million in global ticket sales, an unusually strong showing for an original movie with a modest budget.
"Two years ago, you'd probably hear a lot of studios saying: 'Ah the whodunit's a dusty streaming movie,' and yet, Rian Johnson created an absolutely brilliant movie with a brilliant character," Joe Drake, motion-picture group chair at Lions Gate, said on the company's quarterly earnings call. "There is a lot of story left to tell."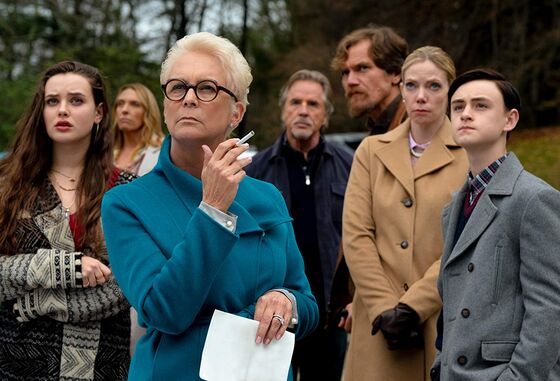 The company is now planning the production start for a second film, along with the fourth installment in the John Wick series.
Franchises are the lifeblood of studios, helping them cope with the volatile tastes of audiences. As moviegoers get to know characters and storylines over years, they flock to theaters to see the next chapter. The highest-grossing films in 2019 were franchise hits, including "Avengers: Endgame" and "Star Wars: The Rise of Skywalker."
However, franchises can be hard to pull off. Lions Gate tried to turn the "Divergent" young-adult books into a blockbuster series like "Hunger Games," but the effort petered out after viewers lost interest.
"Knives Out" tells the story of Blanc, who investigates a murder at a family gathering gone awry. An initial estimate from BoxOffice Pro showed the film may take in $70 million domestically, and it has now generated more than twice that much in ticket sales. The budget was just $40 million, according to Box Office Mojo.
It was also nominated for a best original screenplay Oscar.
Lions Gate didn't provide further details, such as whether the cast -- including Daniel Craig and Chris Evans -- would return or when the sequel will be released.