Lilly Surges as Experimental Alzheimer's Drug Shows Promise
(Bloomberg) -- Eli Lilly & Co. surged in early trading as its experimental Alzheimer's drug showed promise in a mid-stage clinical trial, boosting hopes for progress against the debilitating, progressive brain disorder.
The drug, donanemab, slowed decline of a composite measure of patient cognition and function by 32% relative to placebo in patients with early Alzheimer's, the Indianapolis-based company said Monday in a statement.
Lilly's findings will have to be confirmed in larger studies. Still, the early data will bring a big morale boost to the Alzheimer's drug field after years of negative or confusing trial data. While there are drugs that treat Alzheimer's symptoms, none have shown the ability to slow its inexorable cognitive decline.
It's a rarity in Alzheimer's to get a trial with such clear-cut positive results, said Daniel Skovronsky, Lilly's chief scientific officer, in a telephone interview. It is "unusual if not unique in Alzheimer's disease" to have a study that meets its main efficacy goal on the full set of patients, he said.
The company already has a second efficacy trial ongoing, according to Skovronsky, and plans to meet with regulators to discuss how to proceed.
The shares rose as much as 14%, touching a record high of $189.30 in New York trading and helping to make the S&P 500 Health Care Index into the day's second-best performing sector.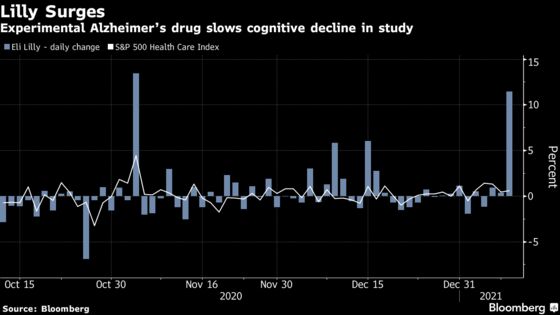 For more than a year, the field has been consumed by drama over Biogen Inc.'s aducanumab as it seemed to be one of the only remaining promising drug in the pipeline to remove amyloid, an abnormal protein that accumulates in the brains of patients that's been linked to the disease. But that drug's efficacy results have been "clearly debatable," said Jared Holz, a Jefferies health-care equity strategist, in a note to clients.
Lilly's progress "takes pressure off" the U.S. Food and Drug Administration to move forward on Biogen's drug, Holz said. The agency is scheduled to weigh approval of aducanumab in March.
Lilly's treatment is an investigational antibody that targets a modified form of beta-amyloid called N3pG, according to the statement. It differs from other, similar drugs in that it is aimed at removing amyloid that's already been deposited in the brain. Many other experimental medications have aimed to block soluble forms of the protein that have yet to be deposited.
Still, some previous drugs have removed existing plaque without stopping cognitive decline.
"This is clearly great news for the company and we expect the stock to trade toward our $200 PT and re-rate as a result of this potential new, commercial opportunity," Cantor Fitzgerald analyst Louise Chen wrote in a research note.
Doctors should view an improvement of 20% or more in cognition, function and a clean side-effect profile as "clinically meaningful" for an Alzheimer's disease drug, Chen said.
Meanwhile, Biogen's shares also gained, rising 3.9% to $262.41 at 10:57 a.m. in New York. Holz, at Jefferies, said he was surprised by the Biogen increase, noting the update by Lilly "introduces a large and viable competitor with an arguably as good or better clinical profile."
What Bloomberg Intelligence Says
The Trailblazer-Alz trial used a modified primary endpoint that hasn't been validated for regulatory approval. While it had more traditional endpoints, such as the NMSE and CDR-SB measures of dementia symptoms, it's unclear whether the trial met these or its pre-specified efficacy level.

Sam Fazeli, BI pharmaceuticals analyst
The drug "has the potential to provide high levels of durable amyloid plaque clearance after limited duration dosing," Lilly's Skovronsky said in the company's statement.
"This allowed us to conduct a trial to test if reducing amyloid plaques in Alzheimer's patients to levels seen in scans of healthy individuals could result in clinically meaningful slowing of cognitive decline," he said.