Elanco's IPO Awakens Animal Spirits
(Bloomberg Opinion) -- Investors in Elanco Animal Health Inc. — the unit of Eli Lilly & Co., which went public on Thursday — are hoping for some of that Zoetis Inc. magic. And no wonder: Zoetis, too, is a former big pharma animal-health unit (of Pfizer Inc.), and has been a huge success since its own IPO in 2013, rising nearly 250 percent. 
But cosmetic similarity and IPO-day excitement may be causing an excess of optimism.
Elanco's shares soared nearly 30 percent above their IPO price in early afternoon trading. The fact is, though, Elanco isn't as attractive a company as Zoetis was when it went public, and suffers even more by comparison now.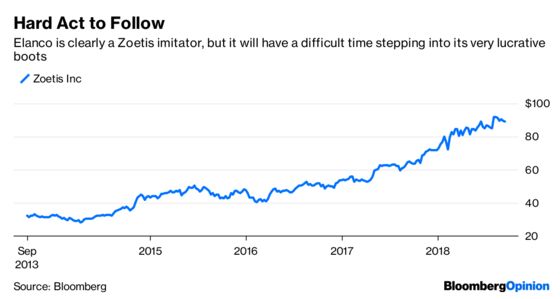 The fundamental appeal of the animal-health business — higher valuations, an easier regulatory path relative to drugs for treating people and a less complex reimbursement environment — remains intact for Elanco. But Zoetis was profitable and growing when it went public. Elanco's growth has been more muted and it has only just become very modestly profitable after several years of losses. It's not a perfectly fair comparison: Elanco has been absorbing its $5.4 billion acquisition of Novartis AG's animal-health unit and could well have done better as a stand-alone over the past few years. But Zoetis is and was in a different class. 
Elanco is more dependent than Zoetis on medicines for livestock, Bloomberg News notes, which isn't the best place to capture growth, given heightened consumer concern over things like antibiotic use on animals raised for food.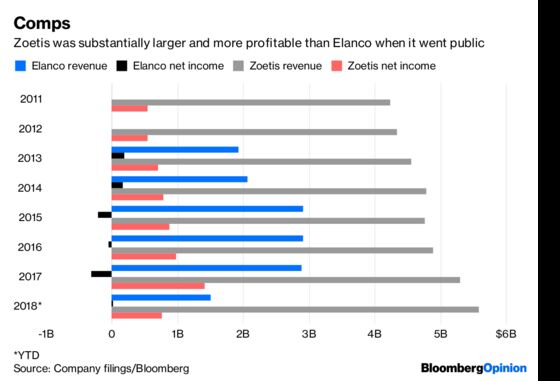 Timing is also an issue. Zoetis went public in 2013. A rising tide lifts all boats, and Zoetis has squeezed a full measure of benefit out of a multi-year bull market and its status as the only truly sizable animal-health pure play. Going public on a day when the S&P 500 hit a new record didn't hurt, but you'd be pressed to find many who believe that the next five years will be as good for equities as the previous five, and Elanco will constantly face a difficult comparison to its more established rival. 
Elanco may prove a worthy competitor and analogue to Zoetis. But in this case, the sequel isn't likely to be as successful as the original. 
This column does not necessarily reflect the opinion of the editorial board or Bloomberg LP and its owners.
Max Nisen is a Bloomberg Opinion columnist covering biotech, pharma and health care. He previously wrote about management and corporate strategy for Quartz and Business Insider.