Life Insurers' CLO Investments Could Pose Big Risks, Fitch Says
(Bloomberg) -- U.S. life insurers have loaded up on collateralized loan obligations since the financial crisis. Those CLOs might prove troublesome in the next recession, Fitch Ratings said.
Insurers' portfolios have become more risky since 2007 as corporate bonds were downgraded, highly rated bonds became scarcer and investors sought higher yields to counter low interest rates, the credit-rating firm said in a report released Thursday. While most insurers have enough cushion to deal with a moderate economic slowdown, a more severe slump could drag credit ratings down, Fitch said.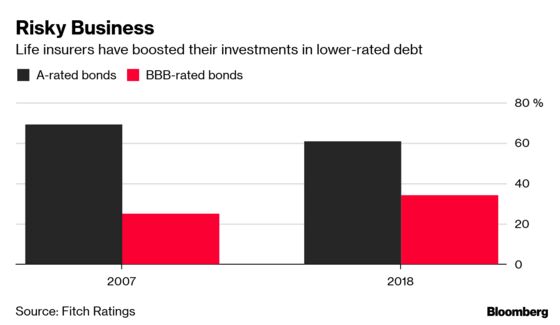 "Investments in collateralized loan obligations increased markedly in recent years and could pose a significant risk if investor protections weaken late in the credit cycle," the company said in the report, "The Coming Storm: How U.S. Life Insurers Are Positioned for a Downturn."
Bonds with A ratings or higher accounted for 61 percent of insurer investment portfolios in the third quarter of 2018, down from 69 percent at the end of 2007, Fitch said. Holdings of BBB-rated bonds, meanwhile, rose to 34 percent from 25 percent in the same period.
"We've been in a period of historically low interest rates and investment yields," Mark Rouck, group credit officer for insurance at Fitch, said in a phone interview from Chicago. "That's put a squeeze on life insurers' profitability. As a result, they've gone a little further down the credit spectrum."