Libor Plunges Most Since 2008 After Virus Spurs Bets on Fed Cuts
One of the world's most important borrowing benchmarks on Friday staged its biggest one-day drop in more than a decade.
The three-month London interbank offered rate for dollars -- a benchmark for trillions of dollars in financial products globally -- sank 11.8 basis points to 1.46275%. That's the biggest one-day slide since December 2008 at the height of the global financial crisis. The move Friday reflects a market that's pricing a more aggressive pace of monetary-policy easing from the U.S. central bank to cope with the economic impact of the coronavirus.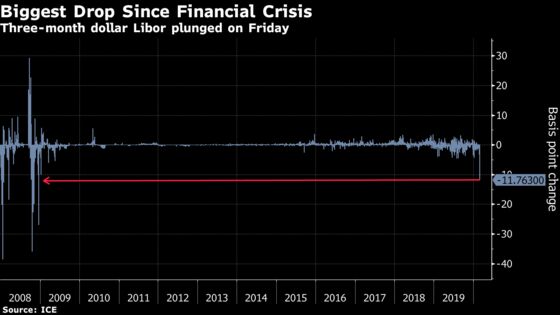 Futures traders are pricing in close to 94 basis points of Federal Reserve interest-rate cuts in 2020. That's the equivalent of more than three standard quarter point cuts, and the first of these is almost fully priced in for as soon as March. A week ago, the market was pricing in just 48 basis points by year-end, but traders have amped up bets drastically this week as virus concerns have battered stocks around the world and sent investors rushing into haven assets.
Related Story: Treasuries Lead Global Bond Rally in Frenzied Hunt for Safety