Leveraged Loans Take a Much-Needed Breather
(Bloomberg Opinion) -- The $1.3 trillion U.S. leveraged-loan market has fallen on hard times after a remarkable year in which the floating-rate debt torched the rest of the fixed-income world. Investors would do well to remember that a bit of short-term pain can yield long-term gains.
Loan funds lost $1.32 billion in the week ended Nov. 28, according to data from Lipper, marking the first back-to-back outflows of more than $1 billion since December 2015. As a result, the market is showing cracks across the board, with the S&P/LSTA Leveraged Loan Price Index falling last week to the lowest in two years. The Invesco Senior Loan exchange-traded fund experienced its steepest drop since September 2014. As Bloomberg News reported last week, the percentage of new deals that had to increase pricing soared earlier this month to the highest of the year, while issuers are pulling offerings at the fastest clip since July.
It's a laundry list of bad news. And that doesn't even include that the Federal Reserve has flagged leveraged loans as a risk worth monitoring, while Senator Elizabeth Warren of Massachusetts has demanded answers from top regulators about how they're ensuring this wave of borrowing doesn't create another financial crisis.
Before they throw in the towel though, investors need to remember how far the market has come this year. The index is still up 3.1 percent, in sharp contrast with the sea of red across fixed income. Many of the appealing reasons to buy the loans are still in place — namely the yield pickup combined with a floating-rate that protects against Fed rate increases. The chief difference is that issuers no longer hold all the cards. It has finally become a buyer's market. 
It's crucial for the long-term health of leveraged loans, which have already surpassed junk bonds in magnitude, to allow investors to be more discerning. One of the most appealing parts of loans is that they're supposed to have priority over traditional securities. But as Bloomberg News's Sally Bakewell and Kelsey Butler wrote last week, heavily levered companies have been tapping the loan market over and over again, securing $100 billion of so-called incremental debt this year because money managers were willing to acquiesce to almost all issuers' demands. On top of that, a larger share of companies have loans as their only form of debt, which doesn't do lenders any good if they go under.
It's pretty obvious that this sort of behavior won't end well. That's why it might be a blessing in disguise that the market has taken a breather. "There's no need to chase new issues," Michael Nechamkin, co-chief investment officer at Octagon Credit Investors, told Butler and Jeannine Amodeo. The ones who pull back, they note, are those that aren't desperate for financing but were hoping to lock in cheap borrowing costs in the once-hot market. As for those who can't afford to drop out? They pay up — restoring some balance between buyers and sellers.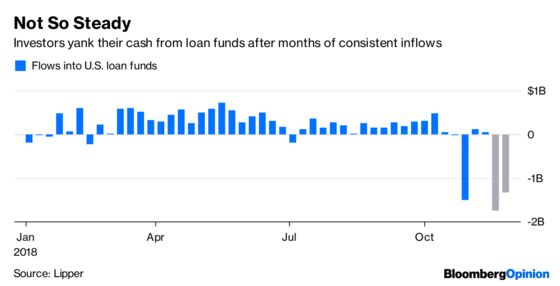 The wild card in all this, of course, is the change afoot at the Fed. Chairman Jerome Powell and other leaders at the central bank have made a concerted effort lately to indicate that they'll be far more data dependent in 2019 than they were in the past. That makes for a murkier outlook for leveraged loans, which have benefited from near-ideal conditions for investors in recent years: Interest rates were rising and the economic outlook was bright. Now there's a risk that the Fed hikes may stop and the economy may sputter.
Still, with the leveraged-loan frenzy dialed back a bit, it's easy to see how investors could quickly fall back in love with collateralized loan obligations as they look to position for 2019. CLOs buy more than 50 percent of leveraged loans and are on track to break 2014's record issuance of $124 billion. Calling them "the lasting sticky lenders," Rishad Ahluwalia, head of CLO research at JPMorgan Chase & Co., told Bloomberg News's Lisa Lee last week that "We expect to see some more new investors, particularly in the AAA and equity tranches because CLOs should return better than some other fixed income products next year." The top-rated portions famously never defaulted, even during the worst of the financial crisis, while the equity segments offer yields that are tough to match.
All of this might be of little comfort to recent entrants into the leveraged-loan market. For those who have seen its appeal for a while and still think economic and market conditions favor the securities, consider this recent pullback a sale just in time for the holiday season.
This column does not necessarily reflect the opinion of the editorial board or Bloomberg LP and its owners.
Brian Chappatta is a Bloomberg Opinion columnist covering debt markets. He previously covered bonds for Bloomberg News. He is also a CFA charterholder.