Leveraged Loan Rally May Be Double-Edged Sword for CLOs
(Bloomberg) -- The rally in leveraged loans may produce mixed results for collateralized loan obligations, which could stand to benefit from improved sentiment overall but lose some of the all-important arbitrage that helps the deals work.
The January rebound was seen across the board in risk assets, which should also boost CLOs by tightening spreads after they reached year-long wides in December amid falling leveraged loan prices. But rising loan prices typically crimp returns for CLO equity investors, a critical buyer base.
CLOs buy leveraged loans and repackage them into bonds for sale to Wall Street. They work by arbitraging the gap between the money brought in from the loans and the cost of borrowing for a CLO manager. Equity investors receive any excess cash flows between the two after the debt investors are paid in full.
"The arbitrage is improved with recent loan price volatility but it is still difficult to get a firm sense without knowing yet where primary AAA bonds will price," said Daniel Wohlberg, vice president at Eagle Point Credit Management. "In the new year, there hasn't been a lot of certainty of what the AAA spread level is yet."
At this point it's hard to determine the loan rally's effect since no CLOs have come to market in 2019. "There is little visibility now," said Maggie Wang, head of U.S. CLO research at Citigroup Inc.
As bad as the CLO spread widening has been, it lagged that of underlying loans in December, so the arbitrage may still improve, experts say.
"There is some relief to the arbitrage," JPMorgan Chase & Co. analysts led by Rishad Ahluwalia wrote in a recent research note late last year. "So it's possible open CLO warehouses may be motivated to price (if taking mark-to-market losses in the loan selloff), and momentum picks up. Also, over the last 19 years and three cycles, CLOs tend to tighten in January."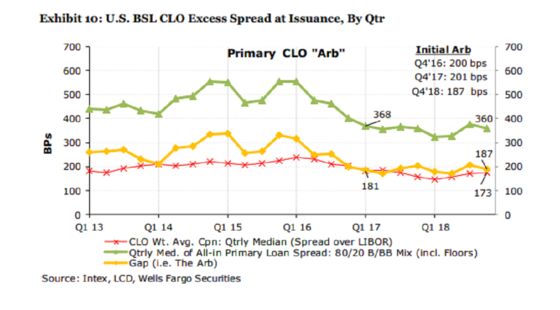 While the arbitrage may be recovering, it is still relatively weak, especially considering that average AAA spreads have widened to 126 basis points over Libor in December from a tight of 97 basis points in March, the narrowest of the year. There are also fewer leveraged loans available to ramp up deals.
The CLO market is coming off its strongest post-crisis year, with more than $130 billion sold and outperforming other segments of fixed income in returns for most of 2018.
Several banks, including Wells Fargo & Co. and Deutsche Bank AG, predict slightly weaker gross supply this year at $110 billion. Morgan Stanley estimates supply as low as $90 billion, as CLO equity may not look favorable against the late-cycle backdrop, while at the other extreme JPMorgan expects a new annual record of $135 billion.
"New-issue CLO issuance is contingent on current AAA levels but so far this year there has been a technical quiet due to recent market uncertainties but we expect issuance to pick up in the near term," Eagle Point's Wohlberg said.