Lego Film Franchise Moves to Universal, in Blow to Warner Bros.
(Bloomberg) -- Comcast Corp.'s Universal Pictures has entered into a five-year deal with Lego to produce films based on the kids building-block brand, snaring a franchise previously held by AT&T Inc.'s Warner Bros.
Previous Lego films, including "The Lego Movie" and "The Lego Batman Movie," have together generated more $1 billion in ticket sales. But their popularity has been waning, with the most recent installment, "The Lego Movie 2: The Second Part," grossing less than half of the original's take at the box office. Late last year, Dan Lin, who produced all four films based on the toys, said he was looking for a new home for the franchise.
Losing Lego is a blow for AT&T, which paid $85 billion for Time Warner, in large part for the content from its Warner Bros. studio. Lego was considered one of a handful of key properties at Warner, along with its DC Comics superheroes and Harry Potter. Warner also has a sizable business producing Lego-themed video games, and shows based on the Lego Ninjago characters air on its Cartoon Network.
A spokeswoman for the studio didn't immediately respond to a request for comment.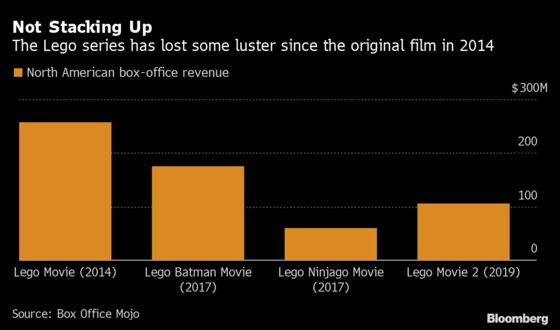 "To partner with such an iconic brand that remains relevant and is constantly evolving allows for creativity in storytelling," Donna Langley, chairman of Universal Filmed Entertainment Group, said in a statement. "We're thrilled to start building out the next chapter of Lego movies together."
The Lego movies were considered the gold standard for movie-toy collaborations, driving a surge in sales that helped make the Danish company the largest toymaker in the world. It's unclear how this deal will affect other relationships, such as theme parks. Universal competes with Merlin Entertainments Ltd., operator of the Legoland theme parks. "Lego Masters," a toy-building competition show, is a hit on Fox.
Lin will return as a producer for at least one more Lego film, though he'll now be working alongside Jill Wilfert, head of entertainment at Lego, according to the statement. The fate of the next "Lego Batman" movie, scheduled for 2022, is unclear. AT&T's WarnerMedia owns DC Entertainment and the intellectual-property rights for the Batman character.
Universal and Lego have already worked together on television series, including "Jurassic World: The Secret Exhibit" and the 13-episode miniseries "Lego Jurassic World: Legend of Isla Nublar."