Legal Immigration Soaring as Mexican-Border Showdown Heats Up
(Bloomberg) -- As the fight over undocumented immigrants reaches a fever pitch along the U.S.-Mexican border, a surging number of farmworkers are arriving to pick tobacco, sweet potatoes and blueberries -- and doing so legally.
The number of migrant workers in the U.S. on temporary agricultural visas is up 159 percent since 2011, as U.S. farmers seek replacements for the thousands of undocumented farmworkers scared away by anti-immigrant policies. Now the farm lobby is pushing for changes that will allow farmers to double the number of legal immigrants, permit them to stay longer and cut the overall costs associated with using them. Some of those changes were originally in one of two immigration overhauls moving through Congress, although farming advocates say they don't know if they'll still be there when the U.S. House votes this week.
The current farmworker visa program, called H2-A, has been reviled by growers for years, both because of its bureaucracy and costs. Many avoided using it when illegal farm labor was more plentiful and less risky. In recent years, though, "people just aren't showing up the way they used to," said Paul Schlegel, public policy director for the American Farm Bureau Federation. "The H2-A program isn't the best, but you have to weigh that against an ICE raid, when you could lose hundreds of workers in a flash."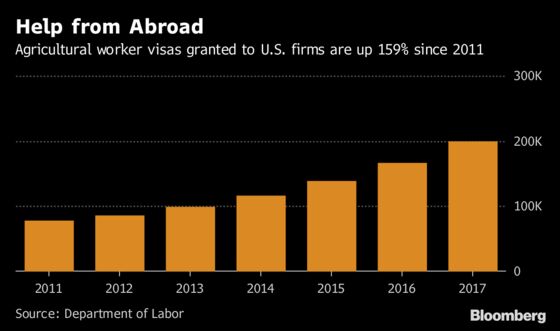 For their part, undocumented workers prefer construction jobs, which are generally less seasonal and better paying, said Lee Wicker, deputy director of the North Carolina Growers Association, a cooperative: "Farmworkers are not crossing the border illegally anymore to take a farm job."
The labor department oversees the H2-A program and requires farmers to apply for needed workers every year, to advertise the jobs locally first, to bear the costs of transportation and housing and pay a minimum wage. It's also known for the occasional delay, which can leave farmers without workers when the crops are ready to pick.
The total size of the farm labor workforce is roughly 1 million workers, according to Schlegel. While the legally imported proportion remains a minority, it's been growing steadily since 2011, the year after Republican agricultural states in particular began passing immigration crackdown laws, in a precursor to the anti-immigrant policies of President Donald Trump. More than 200,000 H2-A visas were awarded last year, up from 77,000 in 2011. This year's numbers are on track to surpass 2017, according to U.S. Department of Labor data.
In Georgia, one of the states that passed an immigration crackdown in 2011, the growth reflects increasing use of H2-A for new crops, said Bryan Tolar, president of the Georgia Agribusiness Council. While the state's peach and Vidalia onion crops have been picked by H2-A immigrants for years, they're now being joined by blueberries, blackberries, cucumbers, cantaloupe, peppers and zucchini, he said.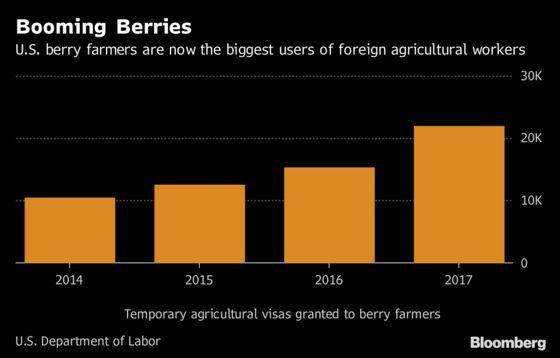 Berries nationally didn't show up in the list of crops with the most H2-A visa workers until 2014, according to data from the U.S. Department of Labor. Berry growers were the biggest users of the program last year.
The H2-A program doesn't directly affect the price of berries, Tolar wrote in an email, "but it does drive up the cost of production and moving them to market. If they can't see a way to make a profit, then the berries just go unharvested, and then the bankers aren't happy. It can get ugly quick."