Left or Right, Investors Delight in Latin America's Hot New Year
(Bloomberg) -- Latin America's two biggest economies have brand-new leaders -- from opposite ends of the political spectrum. They're both presiding over booming markets. And soon, investors say, they'll both likely disappoint.
At first glance, you'd have expected investment returns to diverge after the elections of Jair Bolsonaro in Brazil and Andres Manuel Lopez Obrador in Mexico. After all, while both men promised to crack down on corruption and crime, they have wildly different ideas on how to run their economies. The former has promised privatizations and spending cuts, while the latter is committed to ending policies he sees as favoring investors over ordinary Mexicans. But in fact, the two countries' assets -- be it stocks, currencies or sovereign bonds -- are moving in something like lockstep, and pacing gains on emerging markets so far this year.
Money managers and analysts from Wells Fargo to Schroders say both rallies may soon fade. In Brazil, the high hopes investors pinned on Bolsonaro's economic agenda leave ample room for disappointment in the event that his proposals -- especially a revamp of the crumbling social security system -- run into trouble in a fragmented Congress.
The Mexican case is different. While investors may wish that Bolsonaro had a clear majority in the legislature, they'd probably prefer that AMLO didn't -- but he does. That increases the likelihood that his populist campaign promises get off the drawing board, even though analysts say he's leaned toward the center recently, delivering a budget for 2019 that's broadly in line with his conservative predecessors.
"When Bolsonaro settles into office, markets will want to see some progress on the agenda," said Brendan McKenna, a currency strategist at Wells Fargo in New York. "That is when the currency may start to struggle a bit."
He sees harder times ahead for the peso too. "AMLO has been market-friendly, and the 2019 budget was a great surprise, but we are still cautious in the long term."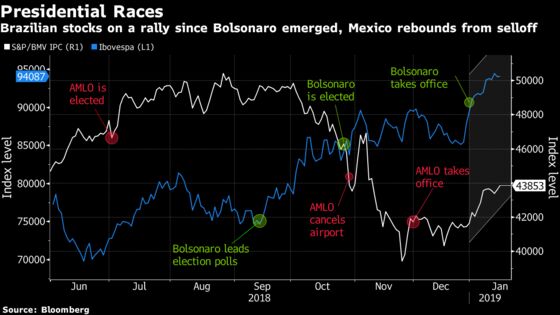 There's not much short-term caution in evidence on the markets right now.
The Mexican peso and the Brazilian real rank second and third among the best-performing major currencies this year. Brazil's Ibovespa stocks index is trading near an all-time high, a record cheered by Bolsonaro himself (taking a page from U.S. President Donald Trump's Twitter habits,) and so is an index of Brazilian sovereign bonds. Mexican stocks, meanwhile, have delivered the world's best dollar returns since Lopez Obrador took office on Dec. 1. The euphoria has spread across the region, with assets from Argentina to Colombia climbing.
Brazil investors are betting Economy Minister Paulo Guedes will deliver on a slimmed-down state and tackle the fiscal woes of Latin America's largest economy. But the new administration's first days in office were rife with backtracking and miscommunication, reflecting a lack of experience with the colossal state apparatus as well as disagreement within the government. Political consultancy Eurasia says the teething troubles probably aren't enough to affect the odds that pension reform is approved -- but, it says, those odds weren't great to start with: the measure is widely unpopular.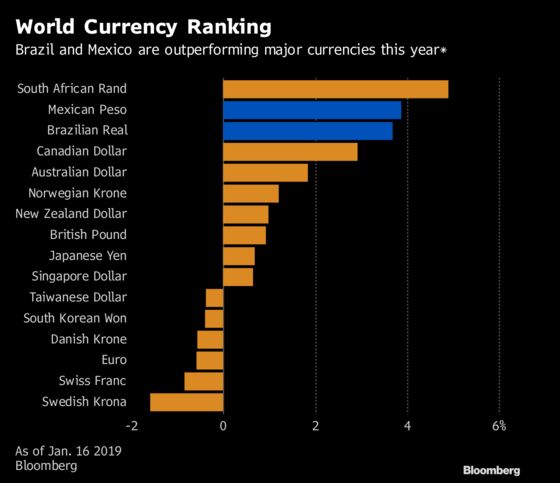 "The risk of disappointment is much higher in Brazil," where Bolsonaro needs to get moving on his policy agenda in order to "arrest deterioration in debt ratios," said Jim Barrineau, the New York-based head of emerging-market debt at Schroders. He's overweight the Mexican peso, seeing local rates as more attractive than in Brazil, where the rally has taken out most of the value.
The Mexican rally is at least partly a rebound, born out of relief after a period of turmoil late last year. In between his July landslide at the polls and his inauguration five months later, Lopez Obrador ditched a $13 billion airport backed by some of the nation's wealthiest businessmen -- sparking a market rout and a dispute with the project's bondholders. There was another, smaller tremor after his party took aim at high fees charged by Mexican banks.
In the past few weeks, much of that angst has dissipated. The left-wing leader reached a deal with the bondholders, and presented a budget proposal that pleased investors. He also unveiled a wide-ranging plan to boost public offerings and encourage bank lending.
But investor worries could resurface at any time, said Greg Lesko, a money manager at Deltec Asset Management in New York. "Ultimately, AMLO calls the shots," he said. "I could easily see him capping interest rates at banks, or some such left-wing policy that would be awful."
As for Brazil, it's "going in a new direction that could be incredibly good for markets," Lesko said. But he adds a major caveat: there are "tons of execution risks."