Lebanon PM Says In Contact With Kuwait, Qatar, Iraq for Help
(Bloomberg) -- Lebanon is in contact with Kuwait, Qatar and Iraq to help the country tackle its worst financial crisis in decades, Prime Minister Hassan Diab said Tuesday.
A day after Lebanon dispatched a top official to discuss possible aid with Kuwait, the premier described those contacts and others as positive and "very encouraging." Lebanon is seeking aid from its Arab neighbors and others to help alleviate the impact of a financial meltdown that has wreaked havoc on its tiny economy and pushed poverty and unemployment rates higher.
Abbas Ibrahim, head of General Security with strong ties to Gulf countries, paid a visit to Kuwait on Monday and met with officials there. Lebanon asked to buy petroleum products at a discount and requested a deposit at its central bank, a person familiar with the matter said.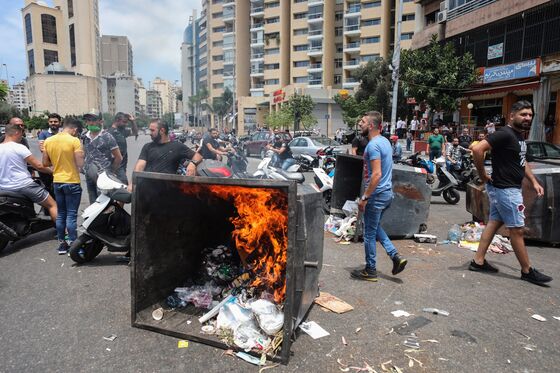 Kuwait is studying all Lebanon's requests, but is not in a financial position to offer cash aid amid a drop in oil prices and the coronavirus outbreak, the person said. Kuwait also doesn't want any funds directed to the Iran-backed Hezbollah militant group via the Lebanese government, the person added, asking not to be identified because of the sensitivity of the matter.
Earlier this month, an Iraqi delegation headed by the oil minister visited Beirut and discussed the possibility of exporting some surplus oil products to Lebanon, which has seen severe power rationing due to fuel shortages.
The international community has repeatedly asked Lebanese officials to implement long-overdue reforms as a prerequisite for aid.
Gulf neighbors have been wary about channeling funds into Lebanon as they'd done in the past, especially given Hezbollah's growing influence in the country. Hezbollah is classified by Gulf states and the U.S. as a terrorist group.
Hezbollah and its allies named Diab prime minister last year after Saad Hariri, who is backed by Saudi Arabia, resigned in the face of mounting protests. Lebanon is in talks with the International Monetary Fund for a $10 billion bailout, but negotiations have stalled over disputes between the government and the central bank.
The prime minister accused some unidentified local politicians of trying to obstruct Gulf aid.
"This is shameful and even amounts to national treason," Diab said. "What we heard from our brothers in Arab countries about their talks with Lebanese politicians is shameful."