Leadership Switch Fails to Boost Australian Government in Polls
(Bloomberg) -- Just over two months since Australia's government dumped Malcolm Turnbull as prime minister and replaced him with Scott Morrison, voters remain unimpressed with the ruling Liberal-National coalition.
The government trails the main opposition Labor party by 46 percent to 54 percent, according to a Newspoll published in The Australian newspaper on Monday. The 8-point gap compares with just a two point deficit in early August, two weeks before party infighting saw Morrison take the leadership.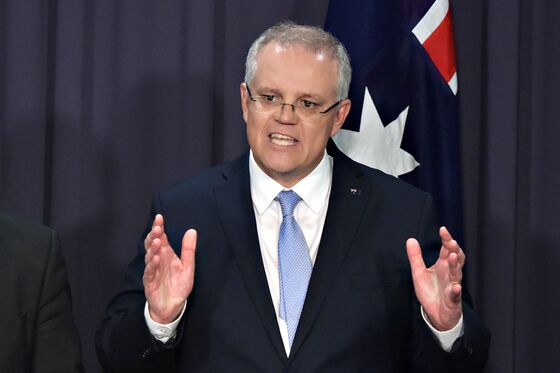 The poll shows Labor remains on track to claim power at the next election, expected by May.
Turnbull's dismissal and subsequent resignation from parliament paved the way for Morrison's government to lose its one-seat majority in a special election last week. Despite blitzing the airwaves with radio and television interviews, the new prime minister has so far struggled to put his own stamp on the leadership, with little progress in key policy areas such as boosting energy security and tackling climate change.
There's one consolation for Morrison: voters prefer him as prime minister over Labor leader Bill Shorten, 43 percent to 35 percent.