Global Banks Enabled the Danske Laundromat, Whistle-Blower Says
(Bloomberg) -- Europe should take a long, hard look at the international correspondent banks and U.K.-based shell companies that greased the flow of dirty money in one of the biggest laundering scandals in history, according to the man who first brought the case to the light of day.
Howard Wilkinson, a former Danske Bank A/S manager who blew the whistle on its multi-billion dollar laundromat, told lawmakers in Brussels that when it comes to shell companies, or limited liability partnerships, the U.K. is "worst of all." He said he was legally prevented from naming the other banks involved, but urged lawmakers to treat the Danske scandal as a case that goes well beyond its core in Estonia.
This "wasn't just about Danske Bank in Estonia. Not even about Danske Bank in Denmark. There was a whole load of banks involved," he said. "The U.S. banks, including the U.S. subsidiary of a European Bank, were basically the last checks. Once the money got through them it was out, clean and into the global financial system."
Wilkinson says he thinks about 80-90 percent of the laundered funds went through the correspondent banks Danske used in Estonia.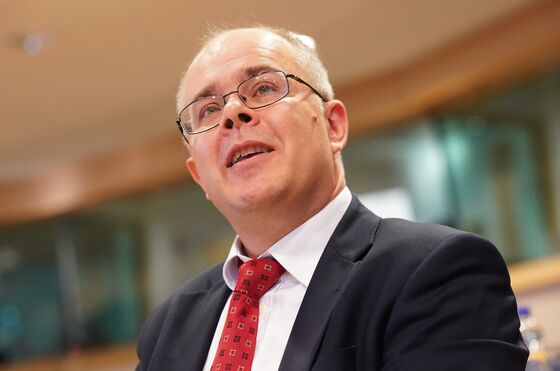 Watershed Moment
Wilkinson's decision about a year and a half ago to tell his tale through the Berlingske newspaper pushed Europe toward a watershed moment, forcing it to acknowledge serious shortcomings in its defenses against money laundering and other forms of financial crime. Lawmakers across parties are now falling over themselves pledging to do more.
Danske has admitted that much of about $230 billion that flowed through an Estonian unit probably needs to be treated as suspicious. Criminal investigations are under way in multiple jurisdictions, including in the U.S. The bank's CEO and chairman have both been ousted because of the scandal and numerous employees have been reported to the police.
Investors have winced at the allegations, and Danske shares have plunged almost 50 percent this year. Only Deutsche Bank has fared worst among European financial stocks since the end of December.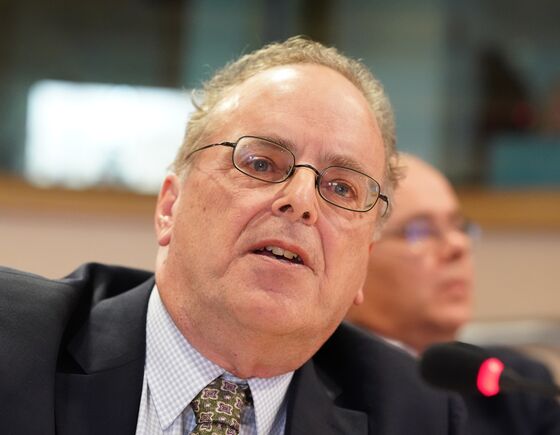 At the end of the testimony, it seemed clear Wilkinson had won over the room. Several lawmakers spent time congratulating him for coming forward and praised his courage. Both he and his lawyer, Stephen Kohn, were met with applause when they finished speaking.
Here Are the Highlights From the Hearing:


Wilkinson reiterated his allegation that the money was only able to make its way into the greater financial system thanks to correspondent banks. Bloomberg and other news organizations have reported that the correspondent banks that Danske used in Estonia were Deutsche Bank AG, JPMorgan Chase & Co. and Bank of America Corp.
The 47-year-old Briton, who ran Danske's Baltic trading desk until 2014, talked of the personal cost of speaking out and criticized the Estonian newspaper that in September revealed his identity against his will.
Wilkinson's lawyer used the opportunity to urge European lawmakers to introduce U.S.-style rules to encourage whistle-blowers to come forward and to protect them from retribution.
Wilkinson raised questions about Danske's regulators; he said someone should find out "what on Earth" Estonia's Financial Intelligence Unit was doing as the case developed. He also spoke of a clear distinction in how the Estonian Financial Supervisory Authority operated before and after 2014. From 2014, the FSA "deserves credit" for its work, he said. The Tallinn-based FSA declined to comment.
Two days after testifying to lawmakers in Denmark, Wilkinson told the European Parliament that its supranational status means it has the clout to actually fight cross-border financial crime.
Lawmakers in Brussels also heard from the interim Danske Bank chief executive officer, Jesper Nielsen, who was grilled on everything from its response to the allegations to the extent to which it's still taking advantage of tax havens.
Nielsen said the "only tax haven" Danske operates in is Luxembourg, though there was an outburst from lawmakers in the chamber, with suggestions that Ireland and the Baltic countries ought to be added to that list.
Nielsen spent a long time discussing the need for Danske Bank to work with its culture to prevent a repeat of the laundering case, acknowledging that management reacted far too slowly.
Hush Money
Wilkinson says he was offered hush money by Danske to prevent him reporting the suspicious trades to others. The deal included a non-disclosure agreement, a severance package and an extra 20,000 euros, or about $23,000. He took the money because he had a family to look after, he says. And also because a senior Danske representative looked him "in the eye" and promised he would personally take care of the situation.
And a Brexit Joke
He ended his testimony by acknowledging the irony of a Briton urging greater unity in Europe.
"In the case of money laundering I have mixed feelings. I'm British, and we're not going to be here that much longer, so for me to start talking about ever greater union is a bit strange," he said.
"I think most of my friends would be giving me very strange looks if I went home waiving the flag for ever greater union," he said. But in the case of money laundering, "centralization will take away the home country bias."