Latvia Steps Up Efforts to Rid Banks of Questionable Cash
(Bloomberg) -- Latvia's plans to kick out risky cash from its scandal-plagued banks are about to accelerate.
Deposits from people outside the European Union will fall by half over the next three months, Peters Putnins, chairman of Financial Capital Market Commission, said in an interview in Riga. The share will drop to about 5 percent by the start of 2019 from almost a fifth now. Total deposits in the financial system were about 17.6 billion euros ($20.7 billion) on June 7.
The Baltic country, plagued by money-laundering investigations and a corruption probe into its central bank governor, is facing increased pressure from the U.S. A top Treasury official made an surprise visit to Latvia last week after saying several banks pose potential risks to the international financial system.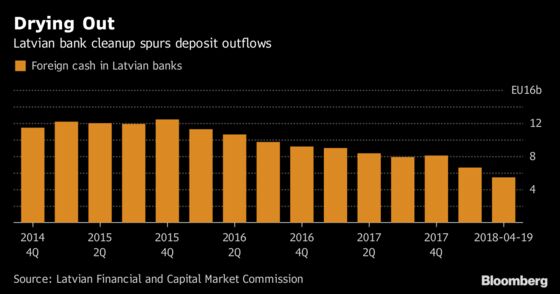 "We're going this derisking way -- we're not trying to control anything because as a small country we don't have the resources, we're simply derisking," Putnins said last week. "We'll tackle at the moment direct customers from countries with unstable legal systems where we have no possibilities to control the sources of funds."
Deposits have plunged by almost 3 billion euros ($3.5 billion) since early February, before ABLV Bank AS was accused by the U.S. of money laundering and subsequently closed. The bank denies all charges of wrongdoing and is contesting the Treasury report in the U.S.
While Latvia won't apply the same restrictions to foreign deposits from fellow EU countries, it will try to monitor attempts to circumvent the system, Putnins said. Those deposits currently make up about 12 percent of the total.
"If you assume that the post-Soviet territory isn't welcome in Latvia and the EU then we have to understand those ways that they're entering EU territory," he said. Using a structure to evade the restrictions won't by itself be cause to force them to leave banking system, he said.