Last Defense Line Crumbles With S&P 500 on Verge of Correction
(Bloomberg) -- U.S. equity bulls just suffered a technical knockout.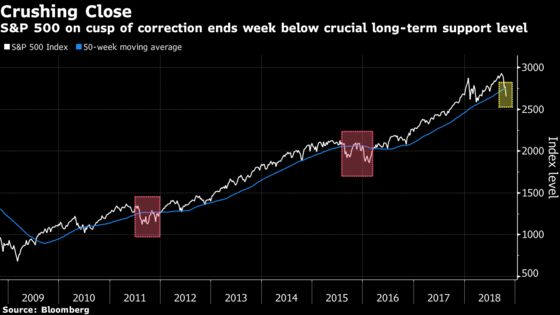 The S&P 500 ended Friday's session below its 50-week moving average, seen as a last line of technical support after the index blew through short- and medium-term averages during a jarring four-week plunge. When the market last closed beneath this level, in 2011 and 2015, it confirmed that months-long corrections were underway.
The benchmark for U.S. equities fell 4 percent this week, at one point trading 10 percent below its September record -- the threshold for a correction -- before closing down 9.3 percent from the peak. Stocks are on pace to post their biggest monthly decline since 2009 as lofty corporate earnings expectations, increased trade tensions and tightening financial conditions have investors on edge.