Larry Flynt, Pornographer and Free Speech Advocate, Dies at 78
(Bloomberg) -- Larry Flynt, who parlayed a string of striptease bars into a multimillion-dollar pornography empire of magazines, books and videos, and successfully defended the enterprise in a First Amendment case before the U.S. Supreme Court, has died. He was 78.
He died Wednesday at his home in Los Angeles, according to the Washington Post, citing his brother Jimmy Flynt. No cause was given.
In 1965, Flynt bought a bar and began setting up Hustler clubs in cities from New York to California. He published the first issue of Hustler magazine in July 1974, following with other publications and decades later turned to the Internet as raunchier digital rivals undercut pornographic periodicals.
His ventures prospered as state prosecutions against pornography declined in the 1980s but began slipping amid the fierce competition his success had spawned. While his niche was publishing images more explicit than those in Playboy and Penthouse, Internet porn began to eclipse Flynt's most outrageous examples of tastelessness.
His closely held Los Angeles-based company, Larry Flynt Publishing, also suffered as Flynt's attention increasingly was diverted by legal battles with local prosecutors, time spent in court -- or in prison.
Flynt was prosecuted for obscenity in Cincinnati and sentenced to 7 to 25 years in prison in 1977, but released after 6 days. He also was imprisoned for contempt in 1984 after screaming profanities at a California district judge and served more then five months months before the conviction was reversed on appeal.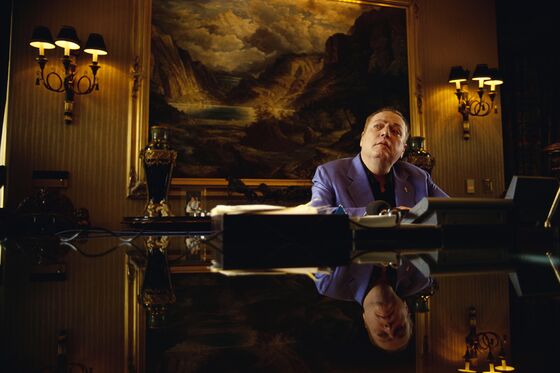 The most life-changing event for Flynt occurred amid a peaceful court proceeding in 1978, when the 35-year-old pornographer was facing minor obscenity charges in Lawrenceville, Georgia. In the morning, Flynt had testified that "Hustler is satire. It is one big put-on," wrote Rodney Smolla, a legal scholar, in 1988's "Jerry Falwell v. Larry Flynt: The First Amendment on Trial." As Flynt approached the rural courthouse after lunch, he was shot twice, leaving him paralyzed from the waist down and confined to a wheelchair.
Smolla's book covered a famous defamation suit filed by Falwell, the Baptist pastor and conservative political commentator, who objected to a Hustler parody of a Campari ad campaign. Under the headline "Jerry Falwell talks about his first time," the fake ad imitated Campari interviews with celebrities employing the "sexual double entendre of 'first times,"' the U.S. Supreme Court noted. It was clearly marked a parody, the Court held, stating no one would believe Falwell had sex in an outhouse with his mother as the ad crudely put it.
Larry Claxton Flynt Jr. was born Nov. 1, 1942, in Lakeville, Kentucky, the son of a sharecropper. He was raised in poverty by his mother and grandmother, had a patchy education and joined the army with fake papers at the age of 14 or 15, he said. After his discharge, he worked at odd jobs until 1960, when he enlisted in the U.S. Navy, serving four years.
Back in civilian life, Flynt took over a bar in Dayton, Ohio, adding two others and a fancier bar with nude dancers and hostesses in Cincinnati. He named it Hustler Club, a place for "men on the go," he said.
He married one of the bar's strippers, Althea Leasure, the fourth of his five wives in 1976. Eleven years later, at age 33 and addicted to drugs and alcohol, she drowned in a bathtub at the couple's Los Angeles mansion.
As a publisher, Flynt proved celebrity photos could outdraw even pornography. Hustler's circulation had fallen sharply after its first few issues when Flynt was offered nude photos of Jackie Kennedy Onassis sunbathing in Greece. Out of respect for President Kennedy's widow, Playboy and Penthouse had rejected the pictures taken by a paparrazo.
Flynt paid $18,000 for what became a five-page Hustler photo spread in 1975. The magazine sold 1 million copies in days, making its lurid reputation and Flynt's fortune.
In 1996, Flynt's notoriety led to a Hollywood movie called "The People vs. Larry Flynt," which earned Oscar nominations for director Milos Forman and lead actor Woody Harrelson. Flynt played the role of the Cincinnati judge who had sentenced him to prison.
The free-wheeling Flynt traveled in surprising social circles. President Jimmy Carter's evangelist sister, Rose Carter Stapleton, became friends with Flynt and converted him to Christianity. After a year, Flynt announced he was an atheist again.
Flynt expanded his adult entertainment with a cable TV channel and a casino, in Gardena, California, which opened in 2000.
Flynt, married his fifth wife, Elizabeth Barrios, in 1998. He was alienated from his children, four daughters and a son, with whom he had never lived. One daughter died in a car crash. Flynt disowned another daughter after she became an anti-pornography activist.
In 2014, when Hustler magazine celebrated its 40th anniversary Flynt told Bloomberg Television: "I don't think Hustler is going to be around very much longer," with customers turning to the Internet instead. "It's making money now. As long as it makes money, I'll continue to publish, but we can see the handwriting on the wall."