Largest Crypto Options Exchange Heads for Panama Amid Scrutiny
(Bloomberg) -- Deribit, the world's dominant exchange for trading cryptocurrency options, is relocating to Panama from the Netherlands next month in anticipation of rising regulatory scrutiny.
The Netherlands is likely to adopt new European Union regulations that "would mean that we have to demand an extensive amount of information from our current and future customers," the Amsterdam-based company said in a letter to customers obtained by Bloomberg News. Deribit accounts for about 80% of Bitcoin options volume, according to data tracker Skew.
While many of the world's crypto exchanges do at least some checking of clients to make sure they are not laundering money or connected to terrorists, it's voluntary for traders to provide information to Deribit. In February, the exchange will require people withdrawing up to 1 Bitcoin over a 24-hour period to provide data such as names and addresses. The exchange still won't make them provide passport or government identification. People wishing to trade higher amounts will need to provide more documentation.
"Crypto markets should be freely available to most, and the new regulations would put too high barriers for the majority of traders, both -- regulatory and cost-wise," the letter said. On Feb. 10, the exchange will be operated by DRB Panama Inc., a fully owned subsidiary of the Dutch company Deribit B.V.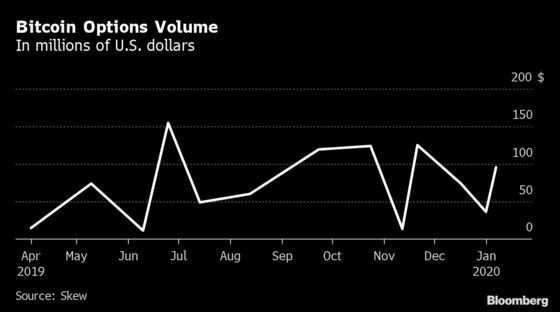 Governments around the world are tightening their regulation of cryptocurrency exchanges. In June, the Financial Action Task Force, which develops recommendations for combating money laundering and terrorism financing that's followed by about 200 countries including the U.S., published new guidelines that impact the exchanges. They require the sites to collect information about their customers, and to send it to the receiver's service provider with each transaction.
Deribit is already moving its servers to London. The company's leadership team won't change, according to the letter.