Largest Biotech IPO in Decade Set for Flood of Analyst Ratings
(Bloomberg) -- Cancer startup Allogene Therapeutics Inc., the largest biotech to go public since 2009, is about to get a wide range of estimates from sell-side analysts when research restrictions expire on Monday.
Goldman Sachs, JPMorgan, Cowen and Jefferies are among banks that managed the drug maker's initial public offering who will be allowed to publish research after the quiet period ends. Investors are optimistic about the biotech's prospects, as evidenced in the stock's notable 54 percent appreciation since going public last month. That compares with a 2.8 percent slide in the Nasdaq Biotech index over the same period.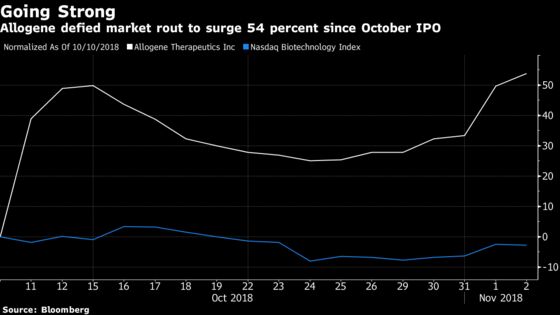 Estimates for Allogene's experimental therapies are likely going to be wildly different as analysts still struggle to model revenues for this new class of cancer treatments, known as CAR-T. Case in point: 2021 projections for Gilead Sciences' Yescarta, which is a first-generation CAR-T therapy, range from $639 million to $2.3 billion, data compiled by Bloomberg show.
It doesn't help that initial sales for Yescarta and a rival treatment from Novartis have so far failed to impress analysts. Allogene, however, disagrees with that assessment and told Bloomberg on the day of its IPO that investors appreciate the potential of its experimental off-the-shelf cell therapies, that use cells from healthy donors, rather than patients' own.
Allogene expects to initiate human trials for its experimental therapies in non-Hodgkin lymphoma and multiple myeloma next year and to advance its early-stage study in leukemia in the second half of 2019.