Lagarde Sticks to Script After Prior Slip-Up on Euro Bond Yields
(Bloomberg) -- European Central Bank President Christine Lagarde is determined not to make the same mistake twice.
Seven weeks after accidentally upending bond markets by indicating the ECB could allow yields in stressed economies to keep rising while other euro-area countries fell, she had a clear, consistent message on Thursday.
"We will not tolerate any risk of fragmentation," she said in response to a question about whether the ECB was doing enough for Italy.
It's a mantra she repeated several times to journalists, often referring to prepared remarks for the policy decision press conference rather than addressing questions directly.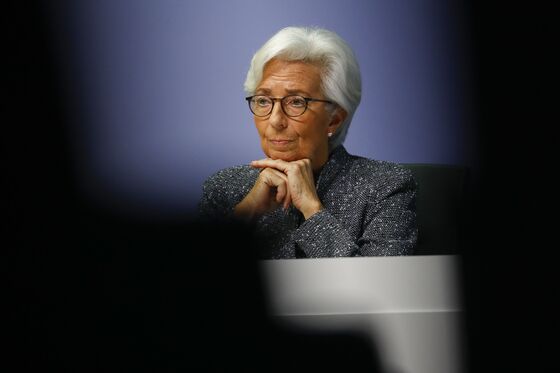 The strategy appeared to be successful. At the last press conference on March 12, Italy's 10-year yield spread over Germany swung nearly 70 basis points, and sent the nation's premium in the coming days to the highest level since its budget dispute with the European Union in 2018. This time round, it was just over a quarter of that.
Lagarde also said the ECB will adjust its bond purchase programs as needed, and left the door open to extending the new emergency program beyond the end of this year, helping put investors at ease.
"We will want to make sure that there is plenty of liquidity, we will want to make sure that credit flows to the economy, that our monetary policy stance and transmission are effective, and we will do so in whichever country needs to benefit from our determinations," Lagarde said.
Asked about the ECB accepting junk bonds in its main Asset Purchase Program, she said eligibility requirements haven't been discussed "at this point in time," and a future change wasn't directly ruled out. The ECB has already granted a waiver on collateral so that Greek banks can also participate in the PEPP loans.