Lack of New Homes May Save U.K. Market From Brexit-Driven Crash
(Bloomberg) -- Anyone fearing a Brexit-induced house-market crash in the U.K. would do well to remember one simple fact: the country isn't even close to keeping up with demand for new homes.
While a sharp drop in their shares on Thursday showed that homebuilders aren't immune to uncertainty over Britain's economic future, figures released the same day may be more important. They show that construction continues to lag behind the government's targets, suggesting that a failure to meet demand will buoy the market for some time to come.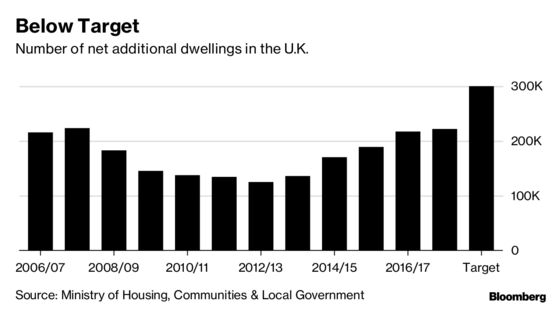 On Friday, U.K. homebuilders extended their declines after three of the biggest companies in the industry -- Persimmon Plc, Taylor Wimpey Plc and Barrett Developments Plc -- all fell by more than 7 percent the previous day. The shares are still trading above the lows reached in 2016.
"We can't ignore there are some headwinds caused by the uncertainty surrounding Brexit," said Grainne Gilmore, head of residential research at broker Knight Frank LLP. However, "the mismatch between supply and demand in many parts of the country -- particularly in urban areas -- will continue to be one of the factors underpinning home prices in the U.K.," she said.
Limited access to land, increasing construction costs and a slow planning process mean that homebuilders have failed to deliver enough properties for at least a decade. To address the problem, the government last year announced an annual target of 300,000 homes. Yet neither developers nor organizations such as the Royal Institution of Chartered Surveyors believe that's achievable.
So far, they've been proved right. On Thursday, the Housing Ministry reported annual delivery of 222,190 net additions to the nation's stock of homes during the 12 months through April. That's only a slight improvement on the previous year.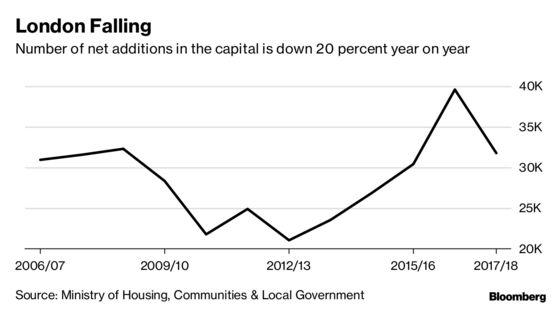 The problem is especially acute in London, where net additions fell about 20 percent from a year ago to 31,723 units, less than half the 65,000 units pledged by Mayor Sadiq Khan in his effort to convince voters he could solve the city's chronic housing shortage.
Home prices in the capital have risen by almost two thirds over the past decade, according to data from the Office for National Statistics. The average rent, meanwhile, stands at 1,619 pounds ($2,070), compared with an average of 768 pounds in the rest of the country.