Kyle Rittenhouse, Symbol for a Divided Nation, Goes to Trial
(Bloomberg) -- Depending on who you ask, 18-year-old Kyle Rittenhouse is either a cold-blooded killer or a hero.
A jury trial is set to start Monday in Kenosha, Wisconsin, where Rittenhouse faces charges including homicide and being a minor in possession of a dangerous weapon. The case stems from shots he fired from an AR-15-style semiautomatic weapon at a chaotic Black Lives Matter rally in August 2020, killing two unarmed protesters and injuring a third. If convicted, he faces the possibility of life in prison without parole.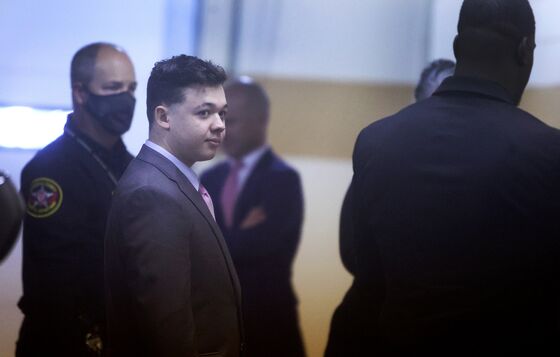 The incident -- much of it captured on cell-phone video -- was another outgrowth of the social upheaval across the U.S. following the May 2020 murder of George Floyd, an unarmed Black man, by a White Minneapolis police officer. Rittenhouse, who argues he fired his weapon in self defense while protecting businesses from rioters, has become a celebrity of sorts among supporters of former President Donald Trump, who called Black Lives Matter protesters "thugs" and defended the shootings as the reaction of a man being "violently attacked."
"The idea that Kyle Rittenhouse was in our town trying to keep us safe is just ludicrous, because we were keeping our community safe before he got here," said Erica Ness of Leaders of Kenosha, a group that helps organize rallies and protests and was formed last year after a local cop shot an unarmed Black man in the city. "He came and now two people are dead. He came for his own selfish reasons."
The Kenosha case has further inflamed the national conversation around race and law enforcement. While Wisconsin is an open-carry state, Rittenhouse, who is White, wasn't challenged by police despite his young age and being out after curfew. None of the armed individuals at the rally were arrested even as they violated the curfew, but more than 150 protesters were, according to lawsuits filed against the city and county.
Corey Chirafisi, one of Rittenhouse's lawyers, declined to comment.
Rittenhouse was 17 when he traveled about 20 miles (32 kilometers) north from his home in Antioch, Illinois, purportedly to protect businesses from looters just two days after a White Kenosha police officer shot Jacob Blake, an unarmed Black man, seven times in the back and side. Blake, 30, was paralyzed from the waist down.
Social media posts by Rittenhouse at the time indicated his support for police, and BuzzFeed News reported last year that he attended a campaign rally months earlier for Trump, who has been a critic of the Black Lives Matter movement.
The trial before Kenosha County Circuit Court Judge Bruce Schroeder is expected to last at least two weeks. Whatever the verdict, groups on the right, particularly White nationalists, will likely use it to ramp up the U.S. culture war, said Michael Edison Hayden, a spokesman for the Southern Poverty Law Center, a nonprofit group that tracks extremist activity. 
"White nationalists have gotten increasingly invested in Rittenhouse's fate," Hayden said. "If he's convicted, they'll make him a martyr. If he wins, they'll become emboldened."
Even so, Hayden says a conviction is crucial for helping to stem extremist behavior that increased after Trump's election, from the deadly 2017 Unite the Right rally in Charlottesville, Virginia, to the Jan. 6 assault on the Capitol by a mob of the former president's supporters.
"If anything appears to sanction the type of behavior Rittenhouse exhibited, we are sure to see more of it in the future, and that is a scary thing," Hayden said. 
In Wisconsin, residents can legally carry firearms in most public spaces. Even so, self-styled militia members brandishing weapons at a rally of unarmed protesters was seen by some local residents as provocative and dangerous. Protesters argue they would have been shot if they'd carried guns in such a manner.
Rittenhouse is accused of homicide in the deaths of Joseph Rosenbaum and Anthony Huber, as well as attempted homicide for shooting Gaige Grosskreutz. He's also accused of being a minor in possession of a dangerous weapon.
Divisions over the case have ramped up recently. Former Milwaukee County Sheriff David Clarke, an outspoken Trump supporter, is raising money for Rittenhouse's defense, telling potential donors in an email that the case is a politically motivated "miscarriage of justice" because the teen was "clearly defending himself." 
At trial, Rittenhouse's defense will include video recordings his lawyers hope will convince jurors that his life was in danger and that at least one of his victims was engaging in vandalism and threatening violence before being shot, according to a person familiar with the plan. Testimony also may include a journalist who witnessed the events and will back up claims that the people chasing Rittenhouse were rioters and not protesters, the person said.
According to the indictment, video shows some of the people who chased Rittenhouse saying, "Beat him up!", "Get him. Get that dude!" and "Hey, he shot him!"
Last week, the judge banned prosecutors from referring to the men shot by Rittenhouse as "victims," citing a policy against use of the word in a trial where guilt hasn't been determined. 
However, the judge said defense lawyers can refer to the men as "looters" or "rioters" as long as there is evidence. Prosecutors said there isn't any, adding in a court filing that Rittenhouse "deprived Mr. Rosenbaum and Mr. Huber of their ability to defend their reputations against these sorts of attacks when he killed them both."
Jacob Blake's uncle, Justin Blake, said it's obvious to him that the men who were shot by Rittenhouse weren't rioters or looters. 
"They didn't have TVs under their arms," said Blake, 52, who plans to rally outside the courthouse during the trial. "They weren't throwing Molotov cocktails. These men came out to support Jacob's rally that night and ended up dead. We don't want to see injustice for their families."