Kroger Talking With Potential Partners on a Health-Care Venture
(Bloomberg) -- Kroger Co. is talking to potential partners in the health-care industry about developing a new line of business.
Chief Executive Officer Rodney McMullen said the grocer is "doing a lot of exploratory work" to identify an area of health care that it could enter and benefit customers -- and perhaps lower their medical costs. Such a venture would also represent a fresh revenue stream for Kroger and complement the advertising and personal-finance businesses that it's counting on to help generate $400 million in additional operating profit by next year.
"Health care is an area where we see a lot of opportunity," McMullen said in an interview Thursday. "We're talking to several potential partners at the moment," which he declined to name.
Kroger's not alone in seeing an opportunity in health care. Walmart Inc. has stepped up its ambitions in the wellness space in recent years, offering free health screenings for shoppers and using its clout to buy health care for some of its workers directly from providers. Amazon.com Inc. has aligned with Berkshire Hathaway Inc. and JPMorgan Chase & Co. on a wellness venture that will be called Haven. It aims to improve access to primary care and simplify insurance.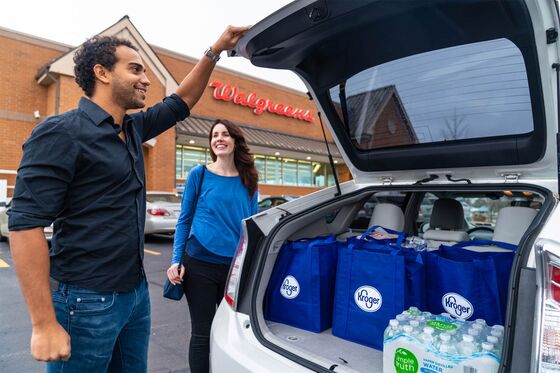 Kroger has also been active in this area. Last year it teamed up with Walgreens to let shoppers pick up their online orders at some of the drug chain's stores, which would also carry a selection of Kroger's Simple Truth natural and organic foods. The test began in one store in Northern Kentucky and is now in 13. The supermarket also operates a specialty pharmacy business that posted "strong" sales growth last year, McMullen told analysts Thursday. The company derives about 9 percent of its sales from pharmacy operations, according to filings.
Any incremental revenue from health care would be welcomed by Kroger's investors, who punished the shares Thursday after the company provided a lackluster full-year profit forecast and said fourth-quarter margins contracted nearly a full percentage point.