Kroger Buys Turnaround Time With Solid Short-Term Defense
(Bloomberg Opinion) -- Kroger Co. just gave itself a little breathing room.
When Kroger announced a turnaround plan last October, I dismissed it as unimaginative. I stand by that assessment, as ideas like personalization and tailored merchandise assortments have been used in the industry for years. But Kroger's latest results show that this plan, even if prosaic, is filling an important function: keeping Kroger in the game while it works on a newer slate of more ambitious, transformational initiatives that will gird it for the next battle in the grocery wars.  
In the months immediately after Amazon.com Inc. announced its deal to buy Whole Foods, perhaps no major grocer appeared more adrift than Kroger.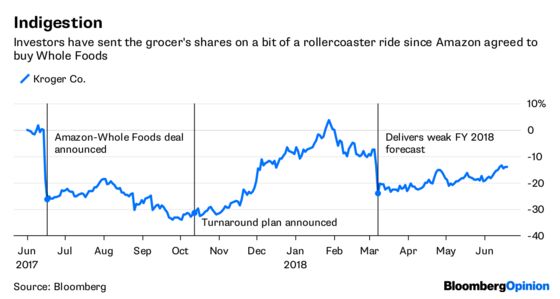 But in recent months, it finally seemed like Kroger had gotten the hint that it needed to make some bold moves to defend against its formidable new competitor. First, it tried to buy Boxed, the startup that is sometimes called Costco for millennials. Boxed ultimately spurned its $400 million offer, but the overture at least showed Kroger was embracing more experimental thinking.
Soon after, it agreed to acquire Home Chef, a meal kit company. It also expanded its partnership with Instacart to offer grocery delivery in more areas. And perhaps most importantly, it announced a partnership with Ocado Group PLC, the innovative British grocery e-commerce company. Ocado will help Kroger with online ordering and home-delivery efforts, including identifying up to 20 sites over the next three years where Kroger can stand up warehouses that use its automated-fulfillment technologies.
These latest moves, especially joining forces with Ocado, will ultimately prove powerful determinants of Kroger's ability to withstand the torrent of change in the grocery business. But it's going to take time for them to bear fruit. If Kroger hadn't delivered upbeat results on Thursday, it might have made it hard for investors to stay patient.
Kroger still has much to prove as it aims to adapt to the digital future. As I noted last week on the occasion of the one-year anniversary of Amazon agreeing to buy Whole Foods, no traditional grocer appears to be edging out Amazon in e-commerce thus far.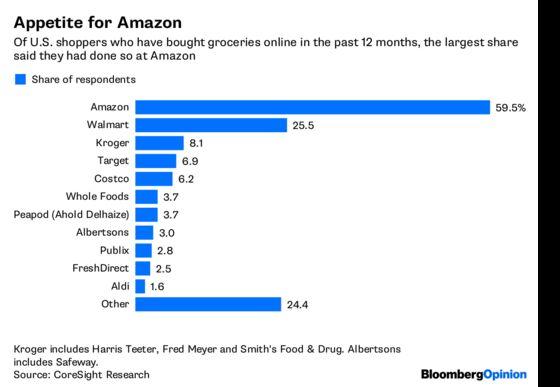 Kroger's digital sales grew a robust 66 percent in the first quarter over a year earlier. But that still represents a slower pace of growth than the "more than 90 percent" annual digital sales growth the company said it recorded in fiscal 2017. That suggests its path to a bigger online business is going to bumpy.
But Kroger nevertheless demonstrated this quarter that it is playing solid short-term defense against its competitors — not just Amazon, but also discounters like Aldi and big-box players such as Target Corp. That should buy it time to pull off bigger feats of innovation.