'Disastrous' Kraft Heinz No Longer Fit for Big M&A: Street Wrap
(Bloomberg) -- Kraft Heinz Co.'s "disastrous" earnings announcement prompted analysts to question the packaged-food giant's growth prospects and its capacity to move ahead with plans for a significant acquisition.
The shares plummeted as much as 28 percent to $34.70. Kraft's plunge erased about $16 billion in market value. For perspective, that's more than the entire value of packaged-food peers JM Smucker Co. or Campbell Soup Co.
Analysts at Goldman Sachs, Barclays, JPMorgan, Stifel, Piper Jaffray, Barclays and UBS cut their ratings on the stock following what Stifel described as a "barrage of bad news:" Quarterly profit missed estimates, the outlook for 2019 was disappointing, and Kraft Heinz cut its dividend, lowered profit-margin expectations and took a $15.4 billion writedown on key brands.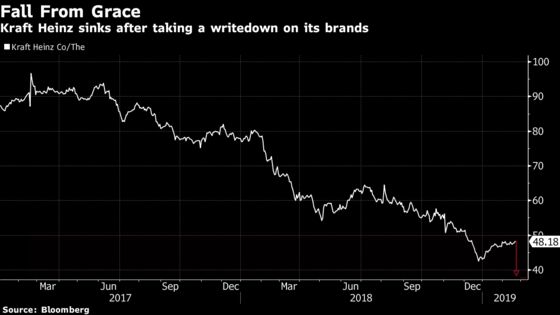 "The dividend cut and the margin rebase reflect serious balance sheet concerns," Robert Moskow, an analyst at Credit Suisse AG, wrote in a note detailing his decision to slash his price target to a street-low of $33 from $42. The update "also pokes an enormous hole in management's contention that it can execute a meaningful acquisition any time soon."
Here's what else analysts are saying about Kraft Heinz:
Goldman Sachs, Jason English (Neutral/Cautious)
Cash flow and EBITDA results were "meaningfully weaker than expected," while guidance for 2019 was roughly 15% below midpoint estimates.
Announcements of subpoena from SEC along with 36 percent cut to quarterly dividend raises concern.
Confidence in company strategy waning as a result of sharply lower earnings expectations and reduced dividend income stream.
"FY19 guidance suggests that nearly all of the synergy-related EBITDA growth it achieved with the Kraft-Heinz merger will have reversed by next year."
"The disappointment, in our opinion, calls into question the strategic merit of the company's cost-cut and consolidation agenda."
Barclays, Andrew Lazar (Equalweight)
Lowered operating EPS estimate for major shareholder Berkshire Hathaway following Kraft's reported net loss of $12.6 billion resulting from "substantial write downs of goodwill and intangible assets."
Credit Suisse, Robert Moskow (Underperform)

This is not your typical "reset the base and everything will be fine" story; earnings report was "disastrous."
The dividend cut, the writedown of Kraft and Oscar Mayer trademarks, and the guidance for further divestitures demonstrates the hallmarks of a company that has "serious balance sheet problems."
Net debt has gone up, not down, over the past two years as pension-plan payments, the unwinding of a securitization program and the high dividend payout "more than sucked up the cash flow."
The company's debt-equity ratio, which lenders find very important, will increase significantly now that the asset writedowns have reduced the denominator.

This partly explains why the company has to guide to higher interest expense in 2019 even though it's using proceeds from two announced divestitures to pay down debt.
It also "pokes an enormous hole in management's contention that it can execute a meaningful acquisition any time soon."
Deutsche Bank, Rob Dickerson (Hold)
While "we still believe the company will eventually make another larger-scale acquisition and will likely extract value from such a move, the question now is how the investment community will view future deals if in fact the value that was extracted with Kraft has essentially been reinvested in stabilizing the base."
"We have to wonder if the company needs to reach a less-volatile state and strengthen the balance sheet before stepping in once again as a consolidator."
JPMorgan, Ken Goldman (Neutral)
"We might have maintained our overweight rating if we still had confidence in the company's strategy but we are concerned that as soon as leverage comes down it will jump right back up when the next deal is completed"
No longer sees a compelling upside case
Between Kraft Heinz and AB InBev's struggles in recent years, "it is reasonable to question the entire 3G strategy"

"Investors for years have asked if 3G's extreme belt-tightening model ultimately would result in brand equity erosion"

"We think the answer arguably came yesterday in the form of a $15b (!) intangible asset writedown for the Kraft and Oscar Mayer brands"

NOTE: Earlier: Kraft Heinz Problems Could Lead to AB InBev Share Weakness: RBC
Piper Jaffray, Michael Lavery (Neutral)
In light of the writedown, "we are not confident" the company can build or maintain brand equity needed to compete in today's consumer environment in a sustainable, compelling way.

While these charges are non-cash, they reflect the company's lower future expectations for these brands, especially relative to the price paid when Heinz acquired Kraft.
These impairments validate fears that Kraft Heinz may have been more focused on costs than building brand equity, and "even if management now has 'seen the light', we are concerned that its brands lack the equity to drive pricing power needed to compete and drive growth in a sustainable way."

"We have been wrong in our bullish view to date but still do not expect compelling near-term upside," and must "now accept that getting an attractive deal done may be less likely than we had hoped."
Recent history suggests company could run into continued challenges with any other brands that it might buy and run with an aggressive discipline on costs, as it has yet to show an ability to drive sustainable organic earnings growth.
2020 improvement is likely, but "we'd rather not wait through the investing to get there."
Stifel, Christopher Growe (Hold)
As the conference call "pressed on in the evening, the severity of the bad news seemed to only increase" and "we believe this will manifest itself in a very weak performance for the shares today."
2019 will now stand as another investment year for Kraft Heinz, and "our Ebitda estimate takes a significant step backwards driven by continued pressure by stepped-up cost inflation, divestitures, unfavorable FX, and increased incentive compensation."
A weak earnings performance and outlook is "no doubt concerning here, but we find the reduction in the dividend as most concerning and was seemingly completely disconnected from the business performance and outlook."
After this earnings rebase, Kraft Heinz will have invested a large chunk of its cost savings back into the business and while this is creating a stronger, more sustainable rate of revenue growth for the business, it's causing investors to question the favorable economics of future acquisitions for the company and its ability to achieve (and hold) the synergies.
UBS, Steven Strycula (Neutral)

The "tenets to our Ebitda recovery thesis are impaired" and the company's margin baseline is now 5 percentage points lower than 2017.
In spite of solid +4% volume growth in 4Q, Ebitda missed UBS's below-consensus estimate by 11% reflecting weaker pricing, higher inflation and lower cost-savings.
Though Kraft plans to deliver price increases and grow sales in 2019, "we are not convinced" it can simultaneously sustain outsized volume gains and expand margin rate.
UBS cuts co.'s 2019 Ebitda forecasts by 12%.
CEO has reaffirmed interest in playing a role in future industry consolidation but at this stage, unlikely a large-scale deal is in Kraft Heinz investors' best interest given margin gains have proven unsustainable and Ebitda erosion makes debt deleverage challenging.
Best to see whether co. can stabilize profit margins, sustain sales gains and fend off private label competition in select lower value-added categories.