Kraft Heinz Bonds Lead Declines in High-Grade Index on Writedown
(Bloomberg) -- Kraft Heinz Co.'s bonds were among the biggest losers in the investment-grade index Friday after reporting disappointing fourth-quarter earnings, headlined by a $15.4 billion writedown on some of its best-known brands.
The risk premium on one of the company's most-traded bonds, the 3 percent notes due 2026, widened 18 basis points, or 0.18 percentage point, to 163 basis points over Treasuries, according to Trace bond price data. The cost to protect the bonds against a default for five years in the derivatives market surged as much as 36 basis points, the most since 2013 before Kraft and Heinz combined.
Kraft Heinz, which holds the lowest investment-grade rating from both Moody's Investors Service and Fitch Ratings, has seen its rating fall through debt-funded acquisitions that have weakened credit metrics. The company, which has around $31 billion of debt, was formed through a 2015 merger arranged by Warren Buffett's Berkshire Hathaway Inc. and the private equity firm 3G Capital.
The Moody's rating has a positive outlook while Fitch's is stable. S&P Global Ratings grades the company one step higher at BBB with a stable outlook.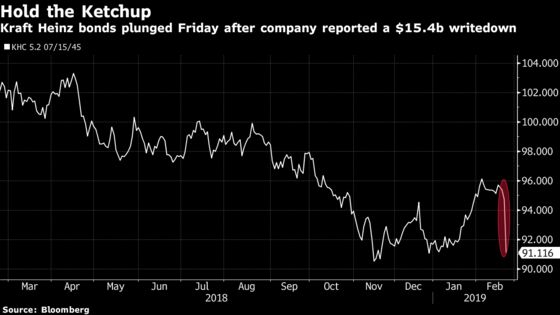 The packaged-food giant wrote down the goodwill value of the Kraft and Oscar Mayer trademarks in reporting fourth-quarter earnings Thursday that missed analysts' estimates. The company is also facing an accounting subpoena from securities regulators.
"There is no question we are disappointed that profitability did not ramp up with consumption gains," said Chief Executive Officer Bernardo Hees, who is also a 3G partner, during the earnings call. "We were overly optimistic on delivering savings that did not materialize by year-end. For that, we take full responsibility."