Korean Consumers Turn Optimistic for First Time Since Covid
(Bloomberg) -- South Korean consumers turned optimistic for the first time since the pandemic struck early last year, adding to signs that the economy is set for a strong rebound this year.
The consumer sentiment index rose by 3.1 points in March to reach 100.5, the highest since January last year, the Bank of Korea said in a statement Friday. A reading above 100 indicates optimism outweighs pessimism.
The improved confidence comes as Korea started to vaccinate its population late February, while managing to keep its daily infection cases under 500 since the start of the month. President Moon Jae-in and BOK Governor Lee Ju-yeol both said this week the economy would probably expand more than previously expected on the back of exports growth.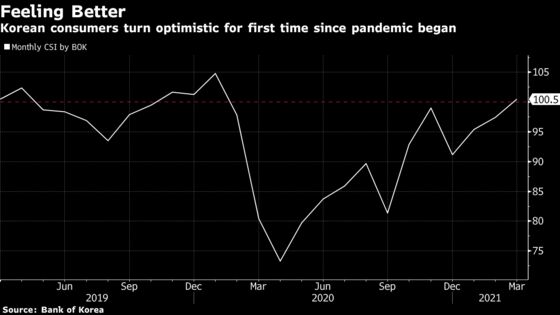 Among the components of the headline sentiment index, households' spending projections contributed most to the rise, followed by their assessment of the current economy. This bodes well for consumption, which has been showing budding signs of revival after lagging the rebound in exports.
Trade ministry data on Thursday also showed department store sales jumped 39.6% in February from a year earlier, taking gains for overall online and offline retail sales to 10%. Parliament's approval of a 14.9 trillion won ($13.1 billion) extra budget to aid small businesses and contract workers should also backstop consumption.
Economists surveyed by Bloomberg now expect Korea's economy to expand 3.4% this year, up from the 3.2% projected at the end of 2020. The International Monetary Fund on Friday said it's raising the outlook for the country to 3.6% from 3.1% seen in January, while Goldman Sachs and Barclays Bank Plc also revised up their forecasts this week.
Still, uncertainty for the outlook remains high as coronavirus variants continue to spread in Korea and abroad. The sentiment index tends to retreat when Korea's outbreak flares up and social distancing rules are tightened.
The BOK's statement showed households' inflation expectations over the next year picked up to 2.1% from 2% in February, reaching the highest since 2019. The survey of 2,360 households was conducted between March 9-16.