Korea Bonds Draw $56 Billion In Year When Peers Saw Outflows
(Bloomberg) -- Global funds have bought the most South Korean debt this year since 2010, a testament to the securities' appeal as a haven and yield play.
Overseas investors purchased $55.9 billion of listed South Korean notes in the year through Nov. 17, according to data from the Financial Supervisory Service. In contrast, they withdrew almost $20 billion from bonds in India, Indonesia and Thailand.
Thanks to a rare combination of attractive yields and the safety of a high sovereign rating, South Korean debt is reeling in funds at a furious pace. But the inflows are creating a headache for the authorities, who worry that continued strength in the won could erode the competitiveness of the nation's exports.
"From the foreign investors' perspective, South Korean bonds are a must buy," said Kang Seungwon, a fixed-income strategist at NH Investment & Securities Co. "Since the world stepped into quantitative easing, yields are minus everywhere else."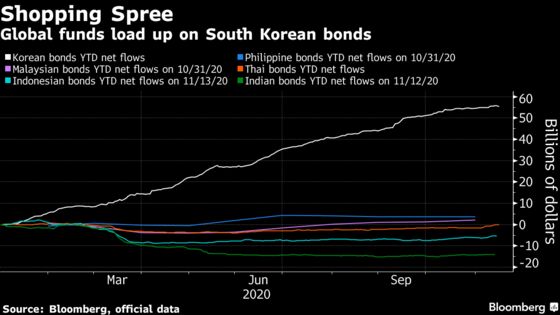 South Korea's 10-year bonds offer about 1.60%, a hefty premium compared to the sub-zero yields on $17 trillion of debt worldwide. The nation is rated AA by S&P Global Ratings, the third-highest investment grade.
Among Asian bond markets, the only other country with more inflows is China, as its inclusion in global indexes draws foreign investors.
"The advantage of holding South Korean bonds will keep going up as other countries continue to adopt more non-traditional monetary policy," said Kim Myungsil, fixed-income analyst at Shinhan Investment Corp.
Yields are expected to remain high despite the inflows, due partly to a record supply of government debt and progress in developing a Covid-19 vaccine. Kim Sanghoon, a fixed-income strategist at KB Securities Co., says the 10-year yield may breach 1.8% next year while NH Investment's Kang expects it to reach 1.8% around April.