Korean Bank Loans to Households Jump as BOK Weighs Rate Hike
South Korean bank lending to households rose in July by a record for the month, adding support to the central bank's argument for an interest-rate hike this year to tame the risk of a debt bubble.
The value of loans rose 9.7 trillion won ($8.4 billion) last month from June to reach 1,040 trillion won, driven largely by demand from home buyers, according to a release from the Bank of Korea on Wednesday.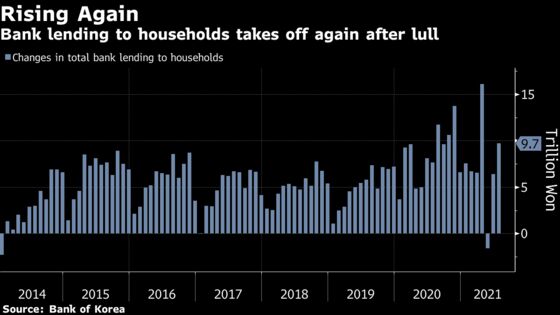 Bank loans to households swelled beyond 1,000 trillion won this year for the first time ever, as the central bank kept borrowing costs low and pumped liquidity into markets hit by the pandemic. The debt-driven rally in Korean property and other assets is creating concern that overheating could eventually morph into another crisis.
The government has tightened regulations and warned potential home buyers of an impending rate hike by the central bank in an effort to discourage buying sprees in the housing market.
The BOK board is also increasingly wary that mounting debt may worsen financial imbalances. One member last month called for an immediate rate hike to rein in the property bubble, with most others displaying some degree of sympathy.
The majority of economists see the BOK raising its benchmark rate by 25 basis points during the fourth quarter. Some expect the hike to come as early as Aug. 26 when the board next meets for a rate decision.