Korea's Top Arranger Says ESG Demand to Spark Deal Rebound
(Bloomberg) -- South Korea's corporate bond sales may rebound next year, fueled by a boom in socially-responsible debt, according to the brokerage that's been the No. 1 local-note arranger for 10 years in a row.
Issuance of won-denominated company debt may rise by 5 to 10% in 2021 to reach at least 56 trillion won ($51 billion), around record levels, said Kim Sung-hyun, president and chief executive officer at KB Securities Co.
Demand for environmental, social and governance bonds will increase further as the government pushes "green New Deal" projects, he said. Companies such as battery producers, online retailers and electric car-makers that have been doing well despite the pandemic will boost debt sales to expand their businesses, according to Kim.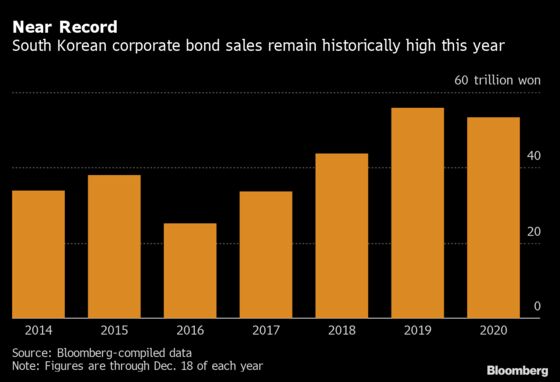 "Because there's a perception that Covid-19 is linked to environmental destruction, more people have become interested in ESG bonds," Kim said in an interview in Seoul. "Companies doing well during the pandemic will also likely increase investments."
Corporations worldwide have issued the most bonds ever this year as policy makers provide massive stimulus to fight the economic slump due to the coronavirus pandemic. While Korean firms' sales have dropped about 5% from record levels in 2019, they remain high historically, according to Bloomberg-compiled data. South Korea is already the biggest sustainable debt issuer in Asia excluding Japan in 2020, and Kim at KB Securities said the National Pension Service's plan to increase ESG investments will further drive investor demand.
Korea's credit market is enjoying a rally as an export rebound driven by global demand for the nation's tech devices spurs a gradual recovery in Asia's fourth-largest economy. Spreads on corporate notes have fallen 6 basis points this month and touched the lowest level since March, when the pandemic started to affect the market, even as the nation now faces one of its worst virus resurgences.
Read more: Worst-Hit Korea Firms Find Only Government Eager for Their Bonds
Firms hit especially hard by the coronavirus including airlines, hotels, cinema operators and retailers may also come to the bond market next year as vaccines start to take effect, Kim said. Now, there's not much investor demand for those companies except from the government, recent debt sales show.