Korea's Producer Inflation Hits 13-Year High as Price Risks Grow
(Bloomberg) -- Factory-gate prices in South Korea rose at the fastest pace since 2008 last month, fueling inflation concerns and adding to reasons for the central bank to raise interest rates next week. 
Producer price inflation from a year earlier picked up to 8.9% from a revised 7.6% in September, the Bank of Korea said Friday. The gains were led by a 85.6% jump in prices of coal and oil related products.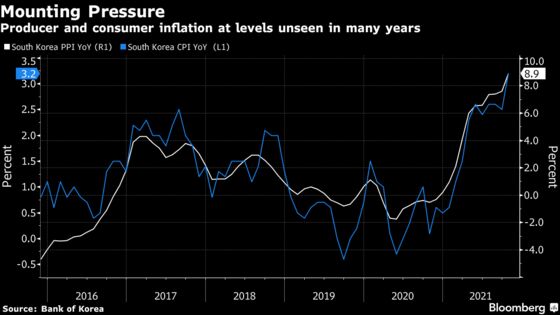 The report backs up BOK Governor Lee Ju-yeol's concerns that high inflation may last longer than earlier thought as global supply bottlenecks persist. In recent speeches, Lee has expressed greater caution over price pressures, an apparent shift from the central bank's previous stance that the pickup in inflation would prove transitory.
The governor has sent strong signals that the BOK will consider its second hike of the pandemic on Nov. 25. While the August liftoff in rates was driven by asset bubble concerns, inflation is increasingly becoming a key consideration. 
The surge in producer prices along with imported inflation add pressure on firms to pass on higher cost to consumers to avoid profit squeezes. That suggests consumer price inflation, which is already at an almost decade high, will remain elevated or accelerate further.