Korea's 2022 Budget to Push Debt Over 50% of Economy's Size
South Korea's smallest budget increase in four years will still push the country's debt load to a record level of more than half the size of the economy, likely adding to concerns over the sustainability of unprecedented pandemic spending.
The government will raise fiscal expenditure by 8.3% from this year's initial outlay to 604.4 trillion won ($518 billion), the Finance Ministry said in a budget proposal on Tuesday. That's only slightly smaller than spending in 2021 including two extra budgets and would ratchet up government debt to 50.2% of gross domestic product.  
While the increase would be bigger than any of the budgets proposed by President Moon Jae-in's predecessors after the global financial crisis, the ministry flagged its intention to get spending back on a more sustainable footing after ramped-up outlays to prop up the economy during Covid-19.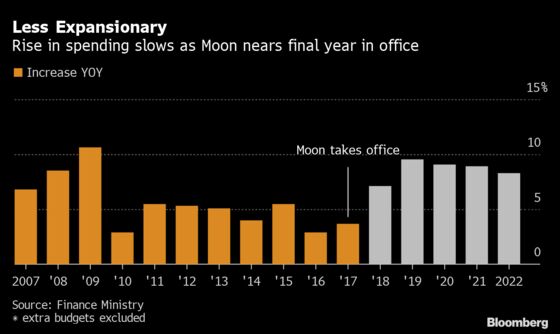 The 2022 budget shows a balance between "fiscal policy continuing to play an active role in overcoming the crisis while at the same time working as a foundation for sustainable spending," a ministry statement showed. It also pointed to a "gradual normalization" of one-off spending plans and a restructuring of expenditure to focus on key agenda items.
Other governments around the world could also start changing their tone as the focus of global policy pivots from emergency stimulus to fostering a sustainable recovery.  
The Korean government plans to issue up to 167.4 trillion won of debt for next year, down from this year's cap of 186.3 trillion won and last year's 174.5 trillion won, according to to the ministry. 
Even before the virus crisis, Moon was a proponent of aggressive fiscal spending as he sought to bridge wealth gaps and nurture balanced growth across sectors. The pandemic bolstered Moon's spending push, resulting in six extra budgets since early 2020.   
While that has helped Korea weather the pandemic better than most economies, Moon now faces the prospect of leaving the country more indebted than ever in his final year of presidency. Korea's debt ratio stood at 36% in 2017 when Moon took office, surpassed 40% for the first time ever in 2020 and is set to reach 58.8% by 2025. 
The debt load is still manageable compared with other developed nations. The International Monetary Fund's fiscal monitor released earlier this year estimated that Korea's general government gross debt ratio will still be less than a third of that for Japan and just a half of the U.S.'s by 2025. 
Still, Korea faces a rapidly aging population and a potential reunification with North Korea, unique challenges that could quickly elevate the country's fiscal cost in the years ahead.  
For more details of the budget: 
Of the planned outlays for next year, welfare programs are set to receive the biggest allocation, with 216.7 trillion won in spending. General public services will get the second largest with 96.8 trillion won, followed by education with 83.2 trillion won.
The finance ministry also projected its pace of spending would gradually slide to 4.2% by 2025.
The fiscal deficit will be equal to 2.6% of GDP in 2022, an improvement from 4.4% for 2021 after accounting for the second extra budget. Korea calculates its budget balance differently from the method used by the Organization for Economic Cooperation and Development, and excludes the balance of social-security related funds.