South Korea Needs $9 Billion in Extra Spending to Prop Up Economy: Survey
(Bloomberg) -- South Korean President Moon Jae-in must boost government spending by about 10.5 trillion won ($9.3 billion) more than originally planned this year if he wants to meet his economic growth forecast.
That's the average estimate from a Bloomberg survey of 10 economists on the size of an extra budget needed for gross domestic product to expand in line with the government's projection of 2.6-2.7 percent. Estimates ranged from 5 to 15 trillion won. The initial budget for this year is 469.6 trillion won, already an increase of more than 9 percent on the previous year.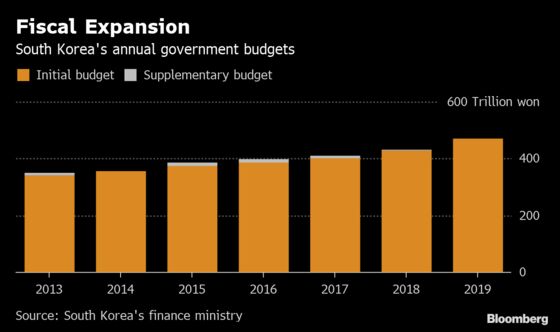 Moon has been in discussions with his finance minister about a supplementary budget to deal with air pollution that may also address separate concern about slowing economic growth and calls for a fiscal response.
The International Monetary Fund threw its weight behind the calls earlier this month when it warned of headwinds buffeting the Korean economy and urged the government to deliver "substantial" new spending. Bank of Korea Governor Lee Ju-yeol is also a supporter of a fiscal boost, saying in parliament on Monday that a package of about 10 trillion won would have a positive impact on growth.
Most respondents to the Bloomberg survey said the extra budget could be paid for with funds left over from 2018, which totaled 13.2 trillion won, or by issuing deficit bonds. The government spent 433 trillion won last year, including a 3.9 trillion won extra budget aimed partly at job creation. Despite this effort, Korea saw the smallest number of new jobs last year since the global financial crisis.
"It's about time for an extra budget because the economy is struggling," said Kim Doo-un, an economist at KB Securities Co. in Seoul. Kim said that if the government doesn't spend the money soon, it will end up costing the country more later.
Exports, the Korea's main growth engine, are on course for a fourth straight month of declines as China's economy slows and semiconductor prices fall. GDP growth may slow to 2.5 percent this year, the slowest rate since 2012, according to the median of projections compiled by Bloomberg.
Early indicator: First 20 days of March point to export slump
All respondents to the survey said the Bank of Korea will keep its benchmark interest rate on hold at 1.75 percent this year. That's despite the IMF calling for a "clearly" accommodative monetary policy stance.
Governor Lee last month brushed off market speculation of a possible rate cut in the near future and reiterated his view that the current policy setting is still accommodative.
"Looking just at the current economic fundamentals, it's the right time to cut the policy rate," said Stephen Lee, an economist at Meritz Securities Co. in Seoul. "The problem is Korea's high external reliance and it's not easy to change your policy when big external risks linger."