Korea Exports Fall Less Than Expected Amid Hope of Trade Rebound
(Bloomberg) -- Go inside the global economy with Stephanie Flanders in her new podcast, Stephanomics. Subscribe via Pocket Cast or iTunes.
South Korea's exports fell less than expected in April even as they dropped for a fifth straight month. While concerns linger about slowing growth in Asia's fourth-largest economy, the potential signs of recovery in shipments add to hopes for a rebound in global trade this year.
Shipments fell 2 percent by value in April from a year earlier, versus the median forecast of economists for a 5.9 percent drop
Exports fell in April due to a continued decline in memory chip prices and as the slowdown in China's economy was sustained, according to a statement from the trade ministry
Shipments of semiconductors declined 0.9 percent; overall exports excluding the memory-chip sector increased 0.8 percent
South Korea is seen as a bellwether for global trade and releases its export data earlier than most other major economies. Soft world demand, China's economic slowdown and tumbling semiconductor prices have hit it hard in recent months.
Exports, which account about a half of Korea's gross domestic product, were a key factor in the biggest contraction in the economy in a decade.
While Samsung Electronics Co., the world's biggest memory-chip maker, on Tuesday posted 1Q net income which missed estimates, it joined rivals in cautiously predicting a rebound in chip prices. Semiconductors account for about a quarter of the nation's exports.
South Korea's government and the Bank of Korea are still maintaining a relatively optimistic outlook, expecting exports to recover from the second half of the year.
The government last week announced plans for an extra budget of 6.7 trillion won ($5.8 billion) for this year to support the economy.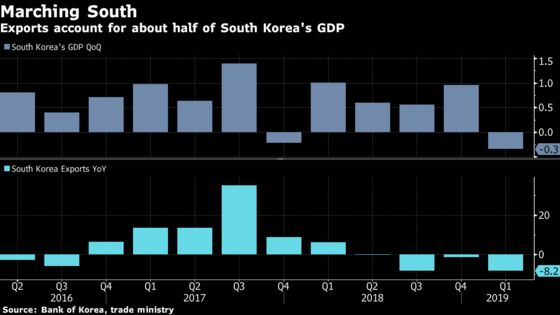 What Bloomberg's Economists Say

"Looking ahead, stabilization in the Chinese economy is a positive for South Korea's overseas sales. But a potential delay in a recovery in the semiconductor sector -- as some companies have warned -- is a key downside risk."

--Justin Jimenez, associate
Click here to view the research.
Imports rose 2.4 percent in April, compared with a 1 percent drop forecast by economists.
The trade balance was a surplus of $4.1 billion, compared with expectations for a $3.7 billion surplus.