Korea Consumer Confidence Hits 3-Year High as Recovery Quickens
(Bloomberg) -- South Korea's consumer confidence strengthened to a high of almost three years in May, fueling optimism that the economy is on track for a strong recovery from the pandemic slump.
The consumer sentiment index rose for a fifth straight month to reach 105.2, the highest since June 2018, the Bank of Korea said in a statement Tuesday. A reading above 100 indicates optimism outweighs pessimism.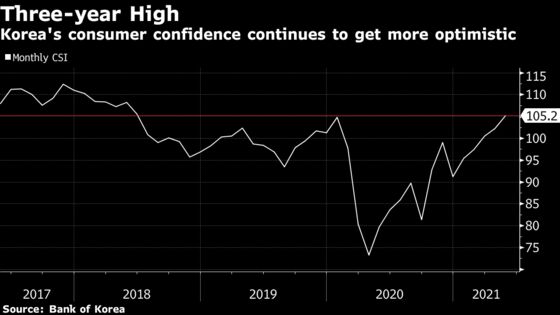 The improvement was driven by stronger-than-expected economic growth in the first quarter, a positive exports performance, progress in vaccinations and better jobs data, according to the central bank.
Alongside a 53% surge in exports so far this month, the stronger sentiment reading will likely figure among recent data the BOK board will review Thursday for its rate decision and growth projections. All economists surveyed see the BOK keeping its main rate on hold. Most of them also expect a significant upgrade to the current forecast for a 3% expansion this year.
Korea has so far staged an export-led recovery, but rising confidence bodes well for private consumption amid signs of an uptick.
Among the components of the headline index, households' assessment of the current economy contributed most to the increase, followed by their views on the economy and spending going forward.
Households' inflation expectations for the next 12 months edged up to 2.2%, a two-year high. Their outlook for interest rates reached 118, the strongest since early 2019, indicating that more people expect rates to go up than down.
The survey of 2,298 households was conducted May 10-14.