Korea Bonds Whipsaw After BOK Has Traders Adrift on Rate Outlook
(Bloomberg) -- Is the South Korean economy improving or in need of more rate cuts? Bond traders couldn't decide after listening to Bank of Korea Governor Lee Ju-yeol.
The yield on benchmark three-year government bonds rose as much as three basis points to 1.46% as Lee gave a more upbeat view of the economy while keeping rates on hold. It then erased the gains after he said two board members argued the BOK needs to cut rates now.
"While Lee's assessment of economy sounded very positive, he continued to mention the need for policy to stay accommodative, making it difficult to understand his intentions," said Kong Dongrak, fixed-income strategist at Daishin Securities Co. in Seoul.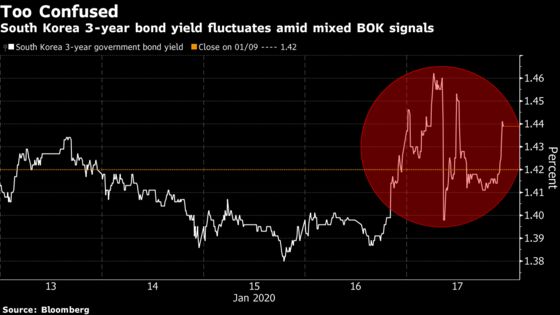 Kong said he continues to see at least one rate cut this year, but confusing remarks by the central bank now have him "contemplating when that reduction will take place."
For Citigroup Inc., the hurdle for any imminent policy rate cuts by the BOK seems to be high after Friday's decision.
The two dissenters are among the members who will be replaced on BOK's board after two more meetings, Gaurav Garg, an analyst at Citi, wrote in a note, recommending investors pay five-year Korea's non-deliverable interest-rate swaps. The BOK has tended to keep policy unchanged in the months preceding and following a board shakeup.
The three-year yield was back up at 1.44% at the 3:30 p.m. close in Seoul.