Kohl's Shares Soar After Retailer Gives Upbeat Outlook for 2019
(Bloomberg) -- Kohl's Corp. rose after the retailer's 2019 sales outlook surpassed estimates, a sign that its partnership with Amazon.com Inc. is helping drive visits to stores.
Kohl's sees earnings of $5.80 to $6.15 a share this fiscal year, excluding some items, while analysts anticipated $5.76, on average.
The results show that Kohl's partnerships -- including an agreement that lets shoppers return goods bought via Amazon to Kohl's locations -- are drawing consumers into stores. The company has also teamed up with WW, the new name for Weight Watchers, for an in-store studio and Healthy Kitchen products at some locations.
Kohl's is joining Target Corp. Tuesday in providing a rather upbeat projection for the year.
Their outlook offered two bright spots after many retailers saw their prospects dimming this year after a buoyant economy propelled the industry last year. As the U.S. economy's strength begins to wane, companies have said sales gains are starting to slow.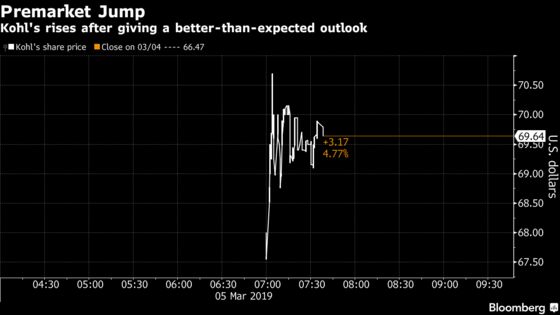 Kohl's shares rose 5.1 percent in early trading on Tuesday.
For more details on the financial report, click here.
For the company statement, click here.