Kohl's Rises After Quarterly Sales, Profit Top Estimates
(Bloomberg) -- Kohl's Corp. rose after posting better-than-expected sales and profit results in a sign its investments to lure customers are starting to bear fruit.
Kohl's posted fourth-quarter comparable sales -- a key metric for retailers -- that were flat, compared with the 0.1% decline analysts had expected, according to Consensus Metrix. The retailer reported earnings per share excluding some items of $1.99, also surpassing analysts' estimates.
Kohl's did not include any impact of the coronavirus in its guidance for the current year -- it expects earnings per share in the $4.20 to $4.60 range -- Chief Executive Officer Michelle Gass said on a call today. While it has not seen an impact on customer traffic, Kohl's is monitoring the situation and working closely with vendors to manage its supply chain, it said.
The quarter's better-than-expected results were driven by new customer acquisition in the double-digit range, and the unprecedented level of new brands and partnerships launched during the year, Gass said. Still, the full-year results did not meet the company's expectations, she said, citing the company's home and women's business apparel segments. The company needs to act with a greater sense of urgency, Gass said.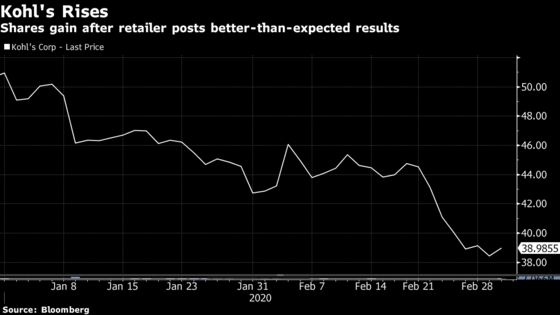 Kohl's has already made efforts to restructure parts of its business including 250 job cuts, which helped hasten new products to market. The retailer will also exit eight women's brands over the next year. Kohl's said it will address this and new business positioning in its investor day in New York on March 16, it said.
The shares rose as much as 4.3% Tuesday in New York before paring some of the gains amid broader market volatility. The shares have already lost about a quarter of their value this year.