Kodak Shares Rally on Report That Probe Finds No Misconduct
(Bloomberg) -- Eastman Kodak Co. rallied after a press report that a probe found no wrongdoing regarding a government loan to the photography giant turned pharmaceutical manufacturer.
The inspector general of the agency that brokered the deal, the U.S. International Development Finance Corp., discovered no evidence that employees of the agency had any conflicts of interest in the plans, nor was there "any evidence of misconduct on the part of DFC officials," the Wall Street Journal reported.
"Kodak is not in a position to comment on the scope or results of any DFC investigation," spokesperson Kurt Jaeckel said in an email. "As previously reported, Kodak's loan application is on hold and we will continue to move forward with expanding our existing pharmaceuticals business regardless of whether we receive the potential DFC loan."
Kodak shares surged as much as 88% Monday to its highest since Aug. 7 and were up an additional 11% in premarket trading.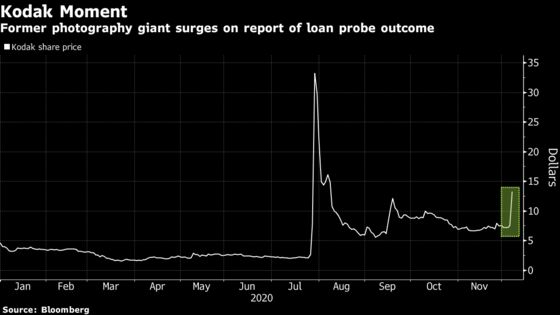 Kodak shares surged almost tenfold in July after the Rochester, New York-based firm made a surprise move into the health care world and disclosed the award of a $765 million loan to manufacture Covid-19 drug materials as part of a government program. The stock gave back a large part of those gains as the investigation put the loan on hold.