Klobuchar Wants 'Aggressive and Effective' Antitrust Enforcers
(Bloomberg) -- Democratic Senator Amy Klobuchar, who's expected to take over a Senate panel on competition policy, called for "aggressive and effective leadership" at the federal antitrust agencies.
The Justice Department's antitrust division and the Federal Trade Commission share enforcement of competition laws. President Joe Biden has yet to announce his nominees for the top posts at the division and the FTC, which currently have acting heads.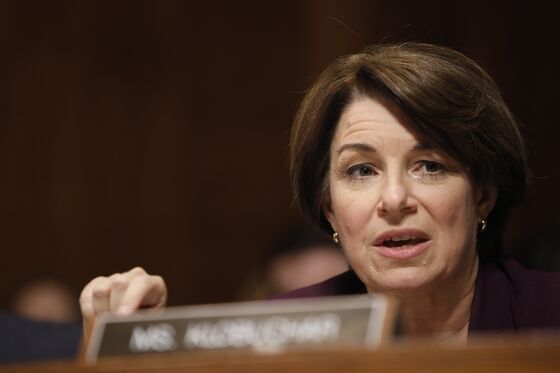 Pressure is building on the new administration to appoint enforcers that won't be beholden to industry interests. Klobuchar made the remarks during a virtual panel Wednesday hours after several consumer and anti-monopology groups sent a letter to Klobuchar and other senators saying "that Big Tech executives, lobbyists, lawyers, or consultants are unacceptable nominees for senior antitrust enforcement roles."
The Revolving Door Project, which tracks corporate ties of government officials, recently released a list of lawyers -- including some who are seen as frontrunners -- that it said should be rejected as candidates for the antitrust division because of their connections to the technology industry.
Speaking at an event held by tech policy group Public Knowledge, Klobuchar also praised Merrick Garland, whom Biden has nominated as attorney general, for his antitrust knowledge gleaned from a previous stint at the Justice Department and his time in private practice.
"Acknowledging what the issues are and learning them are going to be the most important thing, so he will certainly hit the ground running," said Klobuchar, who is from Minnesota.
Klobuchar praised the Justice Department's lawsuit against Alphabet Inc.'s Google for alleged antitrust violations and the FTC's suit against Facebook Inc., both of which were filed late last year. She said the potential for breakups in the cases wasn't "radical." She warned about the consequences of what she views as increasing concentration across the economy and criticized the dominance that companies like Google have over digital markets.
"So much of this beyond tech has been allowed to fester, and I fear that is only getting worse in the pandemic when we've lost 100,000 small businesses," she said.
The Judiciary Committee, which includes Klobuchar's antitrust panel, will oversee confirmation for Garland and the Justice Department's antitrust chief. FTC commissioners go through the Commerce Committee, which she also sits on. Biden is expected to name two commissioners to the five-member agency, including the chairman.
Klobuchar also plans to introduce a measure within weeks to limit corporate monopoly power and she has a forthcoming book called "Antitrust."
Klobhuchar said she's working with the leaders of a House antitrust subcommittee who pursued an investigation focused on competition in the technology industry. They unveiled a report last year with recommendations that could split up large tech companies, reverse court precedents and revise merger laws if adopted.
Her upcoming bill places limits on the ability of giant corporations to gobble up smaller competitors, especially so-called "maverick" firms that offer better products and services to consumers.