Baupost Sheds Puerto Rico Debt That Drove Ivy League Protest
(Bloomberg) -- Baupost Group, which was targeted by student divestment campaigns over its investments in Puerto Rico bonds, exited its position in the bankrupt territory's debt in first quarter of 2019, according to an investor letter seen by Bloomberg.
The firm's decision to shed its stake came during the same period when Puerto Rico allowed owners of its sales-tax-backed debt to trade in their securities for new bonds at a discount, sharply cutting what the island's government owed in the biggest restructuring so far in its record-setting bankruptcy. The bonds traded heavily after the restructuring as hedge funds and others that speculated on the outcome locked in their gains.
Baupost held $911 million of the sales-tax debt in July 2017, soon after the government filed for bankruptcy. The securities subsequently fluctuated wildly in price, with some tumbling to just pennies on the dollar after the island was devastated by Hurricane Maria later that year, only to rally as the economy recovered and the government struck a deal that allowed even owners of bonds with the weakest pledges to recover 56 cents on the dollar.
It's unclear how Baupost fared, since the overall return wasn't disclosed and it would depend heavily on the prices at which it bought and sold its holdings. But investors who purchased their debt around the time of the bankruptcy would have reaped big gains in the restructuring. Subordinated sales-tax bonds were trading at about 28 cents on the dollar in May 2017, half of what was eventually recouped. A senior bond traded around 55 cents on the dollar, far short of the 93 cents received in last year's exchange.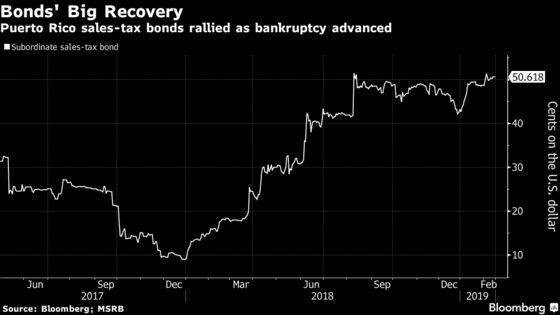 The Wall Street firms that speculated on the island's debt were the occasional target of protesters, who claimed they were seeking to profit at the expense of an island that was struggling with poverty, budget cuts and the fallout of a natural disaster. Baupost was among them, with students at Harvard, Yale and Cornell calling for their universities' endowments to sever ties with it over its stake in Puerto Rico debt.
The firm, led by Seth Klarman, said it received "nearly $650 million from the sale of our restructured Cofina bonds" last year, according to the letter.
A representative for Baupost declined to comment.