Kiwis Take Flight From New Zealand as Australian Jobs Beckon
(Bloomberg) -- New Zealand immigration numbers are on the slide as the nation attracts fewer new arrivals and more locals head to neighboring Australia for better pay or job prospects.
Net immigration in the third quarter was the lowest for that period in four years, Statistics New Zealand data showed Friday. The annual number has dropped to less than 63,000 from a peak of 72,400 in July last year.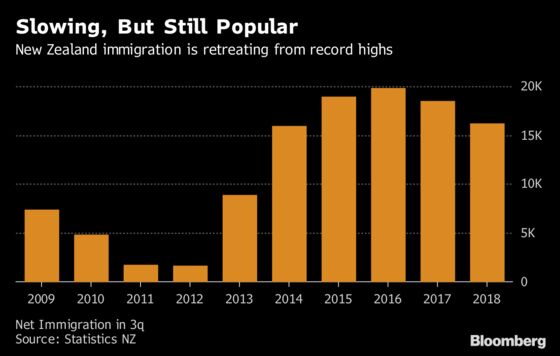 Departures have jumped as people employed on building projects after the 2011-12 Christchurch earthquakes leave the country and more residents move to Australia, which has historically offered better prospects for many Kiwi workers.
The net outflow of New Zealand residents to Australia increased to almost 6,400 in the year through September. It was more than five times that level at its peak, suggesting there's ample scope for immigration to slow further.
"The pick-up in annual departures was broad-based," said Mark Smith, senior economist at ASB Bank in Auckland. "We expect annual net inflows to continue to recede from record highs, reaching around 40,000 persons by the end of next year."