Kishida Urges Japanese Firms to Boost Pay for Economy's Sake
(Bloomberg) -- Prime Minister Fumio Kishida urged big Japanese businesses to boost worker pay this year, in a bid to get firms to sign up to his new form of capitalism and help the economy rebound from the pandemic.
"Wage hikes from firms are extremely important for economic growth," Kishida said in a speech Wednesday to major business lobbies in Tokyo. "I ask that you take an aggressive stance on offering higher pay to help the Japanese economy."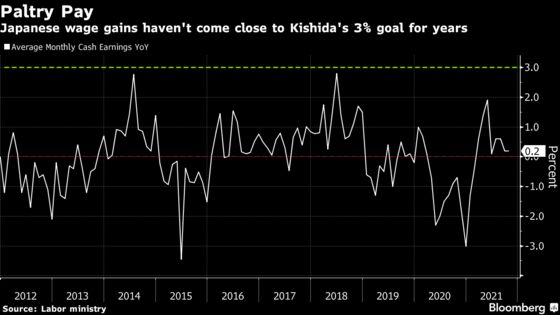 Kishida came to power last year pledging to boost middle-class incomes and create a new brand of capitalism that spreads prosperity more widely. To win general elections this summer, he may need to show some success in cajoling businesses to raise pay during wage negotiations in the next few months, along with containing a winter wave of the omicron variant.
Still, Kishida seemed to have softened his approach since late last year, when the country's biggest business lobby, Keidanren, rebuffed his calls for a 3% pay hike. 
This time, the premier demanded no specific pay-hike goal, suggesting an awareness that his target may be difficult to hit.
For its part, Keidanren has counseled firms whose profitability has yet to recover from the pandemic to focus on maintaining employment. Lower pay in exchange for job security has been a trade-off in Japan for years.
"We have to turn the tide," Kishida said. "The rebound from the covid crisis and the challenge of a new era together creates a moment that must be seized firmly by both the public and private sectors."