Kimberly-Clark Cuts Forecast as Toilet Paper Sales Plunge
(Bloomberg) -- Kimberly-Clark Corp. shares slid after reporting steep sales declines, signaling the end of a boon triggered by the pandemic. The company also cut its annual forecast.
The company expects organic sales for this fiscal year to be flat to a gain of 1%, below a previous projection for an increase of as much as 2%. Adjusted earnings per share this year will be $7.30 to $7.55, lower than an earlier forecast of as much as $8.
With organic sales down 8% last quarter, almost doubling the decline projected by analysts, the company was hard-hit by decelerating sales of toilet paper and a lagging professional business.
The company's consumer tissue unit saw a 12% decline, while operating profit fell by 26%. In North America, the company's biggest market, sales of tissue dropped 14%.
Kimberly-Clark's guidance signals a tough road ahead for consumer goods companies that flourished on surging demand during the pandemic. As at-home consumption wanes, the company expects revenue to contract amid rising commodity costs.
After a year of chasing demand, the company is grappling with higher manufacturing costs. Earlier this month, the company said it was raising prices by mid-to-high single digits on its Scotts tissue business and diapers.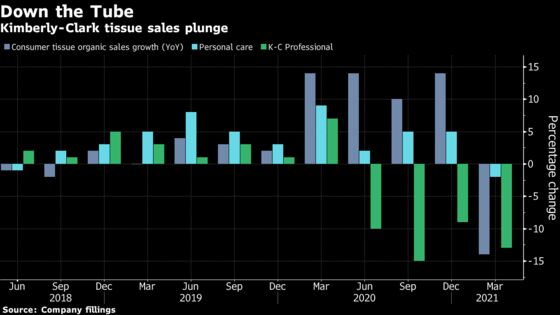 The shares sank as much as 4.7% in New York. The stock had gained 4.1% through Thursday's close.