Kids on Remote Colombian Farms Tune Into Their Classes by Radio
(Bloomberg) -- Children on remote farms in Colombia's mountains and forests are dusting off a method of schooling not used in years and will tune in to hear teachers over the radio.
After more than a month of school closures, the plan adapts what used to be known as "high school by radio", whereby adults who hadn't finished their schooling could catch up by following classes on the radio. Regions will also be able to access the program via television.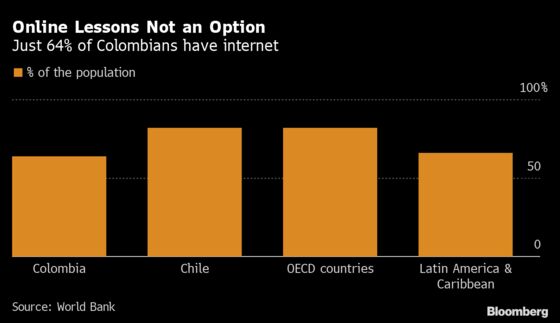 "Unlike the internet, through television and radio we can reach almost every household," Sylvia Constain said Tuesday, in an interview in her last week as Minister of Information and Communication Technologies. "It is a solution in this emergency."
Swathes of rural Colombia are essentially cut off from the modern world, with no internet coverage, and often no cell phone signal, leaving children unable to contact their teachers in recent weeks. The first classes will begin May 4.
The nationwide lockdown that started March 25 to curb the spread of the coronavirus pandemic in Colombia is currently scheduled to end in the first week of May, and children won't be allowed out until at least the end of that month. Whatever happens, the radio teaching program will be available through the end of the year, Constain said.
Constain quit as minister this week to pursue a career at Visa Inc.